Grey's Anatomy Season Four out November on DVD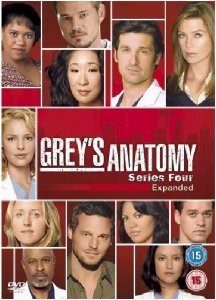 Grey's Anatomy
Season Four
AVAILABLE ON DVD FROM MONDAY 23rd NOVEMBER 2009
Winner of two Emmy Awards and two Golden Globe Awards, the critically acclaimed US drama Grey's Anatomy returns as the eagerly anticipated fourth season releases on DVD on Monday 23rd November. Thoughtful and heartfelt, season four continues to chart the characters tangled relationships, set against an ever-changing backdrop of weird and wonderful patients and cases. 
The season opens with Christina Yang (Sandra Oh) being dumped at the alter by Preston Burke (Isaiah Washington), while the show's protagonist, Meredith Grey (Ellen Pompeo) and her partner Derek Shepherd (Patrick Dempsey) face a will-they-won't-they merry-go-round as they try to sort out their commitment issues. George O'Malley (T.R.Knight) is pursued by new intern - Meredith's half sister Lexie Grey (Chyler Leigh) but her romantic advances for him go unrequited. Instead George only has eyes for Izzie Stevens (Katherine Heigl) with whom he embarks on a tumultuous affair.   
Grey's Anatomy Season Four sees the introduction of a brand new story arc, involving Erica Hahn (Brooke Smith), who replaces Preston as head of cardiothoracic surgery. Erica starts a relationship with George's ex-wife Callie Torres (Sara Ramirez).  The sensitively handled storyline won praise from the Gay and Lesbian community, proving once again why Grey's Anatomy has built up such a dedicated following. 
Packed full of exclusive extras and bonus features Grey's Anatomy Season Four includes "New Docs on the Block," a look at the latest members of the cast; and an on set tour with Dempsey and Eric "McSteamy" Dane; extended scenes; and outtakes. Immerse yourself in the high octane drama of Seattle Grace Hospital. 
Grey's Anatomy Season 4
comes to ABC Studios DVD on
Monday 23rd November
DVD bonus features
"New Docs on the Block," a look at the latest members of the cast
a set tour with Dempsey and Eric "McSteamy" Dane
bonus and extended scenes
outtakes
Production information
Release date:
Monday 23rd November
Certificate:              15
Running time:         710 mins
Produced by:         
Shonda Rhimes
Episodes:                17
Discs:                    5