Silent Night, Deadly Night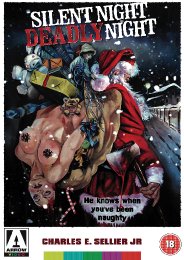 He knows when you've been naughty.
Certificate: 18
Running Time: 81
Retail Price: £15.99
Release Date: 23/11/2009
Content Type: Movie
Synopsis:
One of the most controversial movies of the 1980s - and never granted a certificate by the British Board of Film Classification until now - the seminal cult shocker SILENT NIGHT, DEADLY NIGHT finally gets its long-awaited UK DVD release in November 2009 just in time to bring some Christmas fear into the hearts of horror fans looking for something more stirring than the usual seasonal fare.
A 'stalk and slash' shocker with bells on, SILENT NIGHT, DEADLY NIGHT sparked a wave of controversy on its original US theatrical release thanks to its premise of having a killer dressed as Santa Claus, a concept that led to angry parents, film critics, celebrities and movie industry insiders protesting against and calling for a boycott of this 'outrageous' movie. Now, UK viewers can at last see what all the fuss was about with the release of the fully uncut and most complete version of the film available.

After witnessing the killing of his father and the rape and murder of his mother at the hands of a psycho in a Santa suit, young Billy Chapman, along with his infant brother Ricky, is sent to be raised at St. Mary's Orphanage, an institution run by a tyrannical and abusive Mother Superior. Billy's earlier tragic experience has already left him deeply scarred mentally, with a pathological fear of Santa Claus and a firm belief that sex is an evil act that must be punished - emotional problems that the nuns do nothing about except to reinforce.

Ten years later, and free of the shackles of the orphanage, 18-year-old Billy finds himself working at a local toy store as Christmas approaches. Things are going fine until the store Santa takes ill and Billy is forced to step in and don the red and white suit. He manages to get through the final day at work before the holidays, but an incident at the store employee's Christmas celebrations that evening brings back terrifying memories in Billy initiating a bloody killing spree in which this now-psychotic Santa sets out to 'punish the naughty'.

A superlative 80s shocker that spawned four sequels and ticks all the required slasher genre boxes - namely gratuitous gore, nudity, sex, decapitation and an appearance by Hollywood scream queen Linnea Quigley (Return Of The Living Dead; Night Of The Demons; Hollywood Chainsaw Hookers) - SILENT NIGHT, DEADLY NIGHT is the perfect Yuletide tale of terror.
Special Features:
- Audio Interview with Director Charles E. Sellier Jr.
- Trailer for the uncut version

Video Tracks:
Anamorphic Widescreen 1.85:1

Audio Tracks:
Dolby Digital 2.0 Mono English

Directed By:
Charles E. Sellier Jr.

Written By:
Paul Caimi
Michael Hickey

Starring:
Lilyan Chauvin
Gilmer McCormick
Toni Nero
Robert Brian Wilson
Britt Leach
Nancy Borgenicht
H.E.D. Redford
Danny Wagner
Linnea Quigley
Leo Geter
Randy Stumpf
Will Hare
Tara Buckman
Geoff Hansen
Charles Dierkop

Casting By:
Stanzi Stokes

Soundtrack By:
Perry Botkin Jr.

Director of Photography:
Henning Schellerup

Editor:
Michael Spence

Production Designer:
Dian Perryman

Producer:
Ira Richard Barmak

Executive Producer:
Scott Schneid
Dennis Whitehead

Distributor:
Arrow Video