Puni Puni Poemy (US)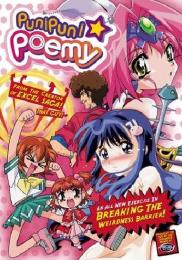 If this anime doesn't offend you somehow, we haven't done our job!
Certificate:
Running Time: 60 mins
Retail Price: $29.98
Release Date: 2004
Content Type: Movie
Synopsis:
You don't need to be crazy to watch this, but it sure helps.

Beautiful Girls! Naughty Aliens! Dead Fish! When evil aliens kill Poemi Watanabe's parents, she doesn't get mad, she gets even... but first she moves in with the seven crazy Aasu sisters, discovers the magic power of dead fish, develops a serious crush on a local octopus, experiences the bizarre and varied wonders and joys of fighting terrorists, S&M, giant robots and becoming a super hero... all while pursuing her REAL ambition of becoming a professional voice actress!

From the creators of Excel Saga, it's the weirdest, wildest, rudest and out and out most demented anime ever made, Puni Puni Poemi!
Special Features:
5.1 Audio Commentary
Clean Credits
Behind The Scenes Featurettes
Production Sketches
Character Art Gallery
Comedy Subtitle Stream
ADV Trailers

Video Tracks:
4:3 regular

Audio Tracks:
Dolby Digital 2.0 Stereo English
Dolby Digital 2.0 Stereo Japanese

Subtitle Tracks:
English

Directed By:
Shinichi Watanabe

Written By:
Yousuke Kuroda

Starring:
Yumiko Kobayashi
Atsuko Enomoto
Aya Hisakawa
Kotono Mitsuishi
Omi Minami
Satomi Koorogi
Shinichi Watanabe
Tomoko Kawakami
Yuka Imai
Yumiko Nakanishi
Cynthia Martinez
Brett Weaver
Jessica Boone
Kelly Manison
Kira Vincent-Davis
Larissa Wolcott
Luci Christian
Monica Rial
Yu Haul
Tiffany Grant

Music From:
Toshio Masuda

Executive Producer:
John Ledford
Mark Williams

Distributor:
ADV Films