Azumanga Daioh - Complete Collection (6 Discs)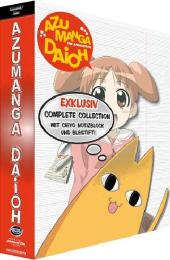 School Has Never Been This Insane!
Certificate: 12
Running Time: 650 mins
Retail Price: £59.99
Release Date: 2007
Content Type: TV Series
Synopsis:
Azumanga Daioh focuses on the lives of an eclectic group of high school girls and their teachers at a Tokyo high school. The series revolves around a close-knit friendship group and the ups and downs of high school life.

In Miss Yukari's English class, every day is an adventure. First off, there's the teacher herself. A bit of an airhead, she may have graduated from high school, but she sure hasn't left. And with the arrival of not one, but two transfer students - one ten-year-old prodigy and one space cadet - it's going to be an interesting year. Get ready for a serious lesson in laughter with Azumanga Daioh!

Azumanga Daioh Complete Collection is a limited edition 6-disc digipak housing all six DVDs of the original series, with identical content to the original releases, wrapped in a full colour plastic slipcase. Episodes are presented in both English and Japanese audio with English subtitles.
Special Features:
12-page booklet featuring character profiles, translators' notes, and cooking recipes
Production sketches
Azumanga Daioh mini-movie
Azumanga Daioh movie character art gallery
Clean opening and closing animation
ADV previews
Includes Chiyo's Dad Notepad and Pencil!

Video Tracks:
4:3 regular

Audio Tracks:
Dolby Digital 5.1 Surround English
Dolby Digital 5.1 Surround German
Dolby Digital 2.0 Stereo Japanese

Subtitle Tracks:
English
German

Directed By:
Hiroshi Nishikiori

Written By:
Kiyohiko Azuma

Starring:
Allison Sumrall
Christine Auten
Jessica Boone
Kira Vincent-Davis
Mandy Clark
Nancy Novotny
Andy McAvin
Luci Christian
Monica Rial
Chieko Higuchi
Houko Kuwashima
Rie Tanaka
Tomoko Kaneda
Yuki Matsuoka
Yuu Asakawa
Akiko Hiramatsu
Aya Hisakawa
Kouji Ishii

Casting By:
Hiroshi Nishikiori

Music From:
Masaki Kurihara

Director of Photography:
Masaru Takase

Editor:
Shigeru Nishiyama

Producer:
Nobuhiro Osawa
Shinichi Ikeda
Yuji Matsukura

Executive Producer:
Taro Maki
Tatsuo Sato
Toshimichi Ootsuki

Distributor:
ADV Films