Madlax: Vol.3 - In-Between (UK)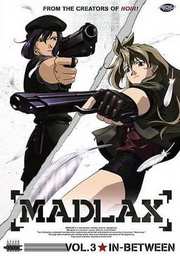 From the creators of Noir!
Certificate: 12
Running Time: 100 mins
Retail Price: £19.99
Release Date:
Content Type: TV Series
Synopsis:
Bookwald Industries - As the largest company in the world, Bookwald has investments and interests spread far and wide in dizzying capacity. And with such breadth of scope, comes great power and influence. Bookwald, wary of its deep roots in the war-torn Gazth-Sonika, has gone to great lengths to not only ensure survival, but perhaps something more devious as well. Only the company`s directors and secret operative Carrossea Doon seem to know the true nature of their intentions. But even that is mere speculation.

Vanessa Rene - This business-savvy brunette is perhaps a bit too smart for her own good. Her intuitive suspicions have all too often been both correct an dangerous. Most recently, she has uncovered reasons to believe that her own place of employment, Bookwald Industries, is meddling in some adverse affairs. She has discovered links to the war in Gazth-Sonika in addition to the highly covert intelligence organization known as Enfant. This time, she may have dug too deep. Madlax may be her only hope.

Contains Episodes 9-12.
Special Features:
Production insert
Clean opening/closing animation
Design sketches
Japanese TV spots
Conversations with SSS
ADV previews

Video Tracks:
Widescreen Anamorphic 1.78:1

Audio Tracks:
Dolby Digital 5.1 English
Dolby Digital Stereo 2.0 Japanese

Subtitle Tracks:
English

Directed By:
Kôichi Mashimo
Kyle Jones

Written By:
Monica Rial
Yôsuke Kuroda

Starring:
Aya Hisakawa
Christine M. Auten
Vic Mignogna
Toshiyuki Morikawa
Jin Urayama
Luci Christian
Houko Kuwashima
Jay Hickman
Nancy Novotny
Sanae Kobayashi
Kelly Manison
Satsuki Yukino

Music From:
Yuki Kajiura

Editor:
Seiji Morita

Producer:
Kyle Jones
Tatsuya Hamamoto
Shigeru Kitayama

Executive Producer:
Mark Williams
John Ledford

Distributor:
ADV Films