Madlax: Vol.5 - Convergence (UK)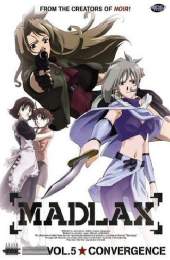 From the creators of Noir!
Certificate: 15
Running Time: 100 mins
Retail Price: £19.99
Release Date: 2006
Content Type: TV Series
Synopsis:
The Elies Script - The Holy Words of Saruon. A language long forgotten has awakened - and anyone who has allowed it to cross either their eyes or lips has felt its eerie repercussions. Just as detective Maclay Morini was closing in on a murder case, the words entranced him into a mindless drone. Literary researcher Eric Gillian sought out the language's origin and ultimately committed suicide. Now, Madlax and Margaret Burton are on the verge of discovering the true meaning behind the words' powers.

Enfant - the secretly controlled hub overlooking the transfer of all the world's digital data. Led by the mysterious Friday Monday, the Enfant network is a clandestine conglomerate of the powerful, the loyal and those unaware of the deceptive depths to which they are involved. Enfant sees all. Enfant knows all. Enfant is responsible for the deaths of Piederica and Anne Moray, the disappearance of Chris Krana, and most importantly, Enfant is the force perpetuating the war in Gazth-Sonika. And now, Enfant is after Madlax and Vanessa Rene.

Contains episodes 17 - 20.
Special Features:
Clean opening/closing animation
Design sketches
"Nowhere": music video
"Nowhere": karaoke version
Limelda character video clip
Japanese TV spots
Conversations with SSS

Video Tracks:
Widescreen Anamorphic 1.78:1

Audio Tracks:
Dolby Digital 5.1 English
Dolby Digital Stereo 2.0 Japanese

Subtitle Tracks:
English

Directed By:
Kyle Jones
Kôichi Mashimo

Written By:
Yôsuke Kuroda
Monica Rial

Starring:
Satsuki Yukino
Kelly Manison
Sanae Kobayashi
Nancy Novotny
Jay Hickman
Houko Kuwashima
Luci Christian
Jin Urayama
Toshiyuki Morikawa
Vic Mignogna
Christine M. Auten
Aya Hisakawa

Music From:
Yuki Kajiura

Editor:
Seiji Morita

Producer:
Shigeru Kitayama
Tatsuya Hamamoto
Kyle Jones

Executive Producer:
John Ledford
Mark Williams

Distributor:
ADV Films