Madlax: Vol.6 - Sacrifice (UK)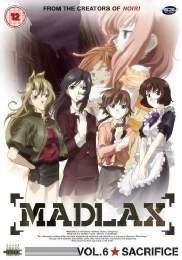 From the creators of Noir!
Certificate: 12
Running Time: 75 mins
Retail Price: £19.99
Release Date: 2007
Content Type: TV Series
Synopsis:
From the creative minds behind "Noir," a compelling saga of two lives and the dark circumstanced surrounding their mysterious connection.

The Gift - Only those with the Gift are able to read the Holy Words of Saruon. They are the pathway to the door of truth - the only means by which the reality of the event twelve years ago can be revealed. But, without the gift the Holy Words can cause grave danger and teeter the delicate balance of creation and circumstance. The Gift is freedom, but only for a chosen few. It will allow Margaret and Madlax to finally discover who they are and where they belong. Only, Madlax does not possess the Gift. She is something different.

Different - Madlax can sense it. Madlax can feel the Essence and touch the realm beyond reality. But, not completely. It is this confusing and frustrating state which has driven Madlax to discover her true existence. She has learned of her powerful yet cloudy connection to Margaret Burton. Drawn together, they have both searched along separate paths to arrive not only at the same destination but also at the same moment in time. It is a moment twelve years ago. It is a moment that will bring them closer together - and tear them further apart.

Contains Episodes 21 - 23.
Special Features:
Clean opening/closing animation
Design sketches
"Shards of My Eyes": music video
"Shards of My Eyes": karaoke version
Japanese TV spots
Conversations with SSS
Easter Egg
Episode 22 Extended Preview
Vanessa Video

Video Tracks:
Widescreen Anamorphic 1.78:1

Audio Tracks:
Dolby Digital 5.1 English
Dolby Digital Stereo 2.0 Japanese

Subtitle Tracks:
English

Directed By:
Kyle Jones
Kôichi Mashimo

Written By:
Yôsuke Kuroda
Monica Rial

Starring:
Satsuki Yukino
Kelly Manison
Sanae Kobayashi
Nancy Novotny
Jay Hickman
Houko Kuwashima
Luci Christian
Jin Urayama
Toshiyuki Morikawa
Vic Mignogna
Christine M. Auten
Aya Hisakawa

Music From:
Yuki Kajiura

Editor:
Seiji Morita

Producer:
Shigeru Kitayama
Tatsuya Hamamoto
Kyle Jones

Executive Producer:
John Ledford
Mark Williams

Distributor:
ADV Films