Claymore: Volumes 5 & 6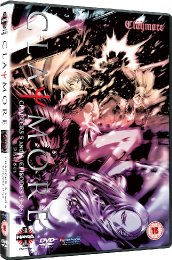 Sexy blonde women, bashing monsters with swords!
Certificate: 15
Running Time: 183 mins
Retail Price: £19.99
Release Date: 2009
Content Type: TV Series
Synopsis:
A brutal scourge stalks the land. Yoma, monsters driven by a hunger satised by only one quarry - Humanity. The dark breed knows but a singular foe: Claymore. Human-Yoma hybrids of extraordinary strength and cunning, the Claymores roam from skirmish to skirmish delivering salvation by the edge of a blade.

Thus continues the twisting tale of Clare, one such sister of the sword driven by pain in both victory and defeat. War has been unleashed, and certain death looms, yet the silver-eyed soldiers harbor an even greater fear - The uncertain horror of Awakening.

Rigaldo, a foe more force of nature than warrior, stands in the way of survival. But neither madness nor monster will sway Clare, not with vengeance so near.
Special Features:
Audio Commentary (ep 19 & 26)
Clean Opening & Closing Songs
Interview w/ Art Settings Nobuhito Sue
Original TV Spots
Production Art Gallery

Video Tracks:
1.78:1 anamorphic widescreen

Audio Tracks:
Dolby Digital 5.1 Surround English
Dolby Digital 2.0 Stereo Japanese

Subtitle Tracks:
English

Directed By:
Hiroyuki Tanaka

Written By:
Norihiro Yagi
Yasuko Kobayashi

Starring:
Houko Kuwashima
Aya Hisakawa
Hana Takeda
Hiroaki Hirata
Kikuko Inoue
Koji Yusa
Miho Miyagawa
Miki Nagasawa
Motoki Takagi
Stephanie Young
Todd Haberkorn
Anastasia Munoz
Brina Palencia
Caitlin Glass
Christine Auten
Jamie Marchi
John Swasey
Monica Rial
Romi Paku
Ai Orikasa
Akeno Watanabe
Megumi Toyoguchi
Satsuki Yukino
Tomokazu Seki
R Bruce Elliott
Vic Mignogna
Christopher R. Sabat

Music From:
Masanori Takumi

Director of Photography:
Lee Suk Bum
Oh Senog Ha

Editor:
Satoshi Terauchi

Producer:
Manabu Tamura
Masao Maruyama
Toshio Nakatani

Distributor:
Manga Entertainment