Madlax: Vol.2 - The Red Book (UK)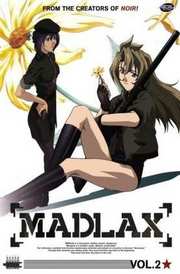 From the creators of Noir!
Certificate: 15
Running Time: 100 mins
Retail Price: £19.99
Release Date:
Content Type: TV Series
Synopsis:
From the creative minds behind Noir, a compelling saga of two lives and the dark circumstances surrounding their mysterious connection.

The Gazth-Sonika Civil War - As the death toll mounts, so do questions about both the conflict`s purpose and its highly secretive facilitators. Even the ruling power`s Army Commander hired mercenary Madlax to carry out his own assassination in the hopes of putting an end to the madness. Meanwhile, the quest for answers continues. Before being murdered by his bizarrely entranced daughter, resistance operative Piederica Morey sent a young boy named Chris deep into Gazth-Sonika in order to find the truth - and turn the tide of the war.

The Red Book - A gift from her father. Margaret Burton cherishes the blood stained manuscript, not only as a family heirloom, but also as the only link to her shrouded past. Within its pages rest an ancient language long forgotten - Elies, The holy words of Saruon. But one page from the book if missing. With the help of personal caretaker Elenore Baker and biblio-detective Eric Gillain, Margaret commissions a search. They are to find another copy of the book as well as learn more about its contents. What they discover instead, is trouble.
Special Features:
Production insert
Clean opening/closing animation
Design sketches
Japanese TV spots
Conversations with SSS
ADV previews

Video Tracks:
Widescreen Anamorphic 1.78:1

Audio Tracks:
Dolby Digital 5.1 English
Dolby Digital Stereo 2.0 Japanese

Subtitle Tracks:
English

Directed By:
Kyle Jones
Kôichi Mashimo

Written By:
Yôsuke Kuroda
Monica Rial

Starring:
Satsuki Yukino
Kelly Manison
Sanae Kobayashi
Nancy Novotny
Jay Hickman
Houko Kuwashima
Luci Christian
Jin Urayama
Toshiyuki Morikawa
Vic Mignogna
Christine M. Auten
Aya Hisakawa

Music From:
Yuki Kajiura

Editor:
Seiji Morita

Producer:
Shigeru Kitayama
Tatsuya Hamamoto
Kyle Jones

Executive Producer:
John Ledford
Mark Williams

Distributor:
ADV Films