A Response to the Kyoto Animation Tragedy
Anime made the world news last Thursday, and in the worst possible way. It will have been hard to miss the images of the arson attack on Kyoto Animation, also known as KyoAni. A fire set on their main studio in Kyoto has at the time of writing resulted in 34 fatalities, and just as many injured, some critically so.
I've been trying to process this, trying to come to terms with what has happened, but there is no understanding such a senseless act. That someone should act in such a manner against people whose sole aim is to bring joy and wonder to millions of fans of animation around the world; it's inexplicable. In the face of such a human cost, so much heartbreak and pain, it seems petty and frivolous to also lament the material cost of the fire, the years of hard work and creativity lost, artwork and designs, paint and cels and hard-drives, the legacy of a studio stretching back to 1981, as well as the promise of the future, those shows and movies that were yet to come. But as fans of animation, that is usually the point of contact that we have with studios, the culmination of years of hard work brought to life in 2 hours of a film or half an hour of a television episode.
Fans around the world are coming together in the face of such tragedy to support KyoAni, with a GoFundMe from Sentai Filmworks gathering some $1.8 million in pledges. You can read about this and many other ways in which fans have been, and can still express their support at
this Crunchyroll page
.
It is so easy to get angry, bitter, and cynical when something like this happens; it's something that I have been contemplating for the last few days, but I keep thinking back to what KyoAni means to me, that sense of joy and wonder that I got with the shows that I saw, the movies that I watched, and I've decided that I'm going to spend my energy on love instead, thinking back to those KyoAni shows that have moved me in the past, my viewing history with the studio.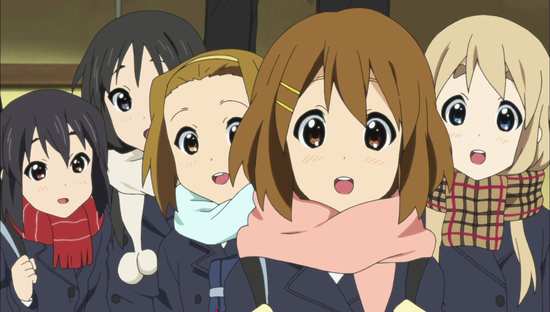 For me it started in 2008, when I imported this show that everyone happened to be talking about. I think in terms of fandom impact,
The Melancholy of Haruhi Suzumiya
was the first big Internet anime sensation. The original series eventually got a second season, a couple of spin-off comedy short series, and then The Disappearance of Haruhi Suzumiya feature film. Aspects of the franchise have dated, but that first season still impresses, with its pop-culture defining story and characters. High school is a common setting for KyoAni productions, and that is just as evident here, with the melancholic girl of the title looking for all manner of aliens, espers and time travellers with her SOS Brigade, missing the obvious right under her nose, and getting her hapless lackey into all manner of shenanigans. The second season has become infamous for an eight episode long audience tease, but it was the feature film that showed what this universe and the studio were truly capable of.
The dating game is an odd videogame genre in Japan, but Jun Maeda created a sub genre of his own when he added mystery and enriched narratives. Naturally, like many other narrative heavy games, they spun off anime versions as well. For a brief time, Jun Maeda and KyoAni were a perfect collaboration, and I imported the second anime adaptation in 2010.
Kanon
saw a boy with a gap in his memory going back to his wintry hometown, and meeting several strange girls, each of them holding a key to his past, and a mystery to be resolved. It's around this time that I started becoming aware of KyoAni as a studio, recognising an art style.
So much for the animation style! By 2011, we were streaming our anime long before they got to home video release, and I got an early taster of one of the funniest anime shows out there,
Nichijou
. It's a slice of life show that follows three friends in high school, and the various oddball characters around them, and it plays just like a comedy sketch show. There's not a lot I can say to describe it, although it is one of my particular favourites. But once you see a school headmaster wrestling a deer, there's not a lot that you can say while wheezing for laughter.
A few months later, I got my first taste of my favourite KyoAni production, and one of my favourite shows full stop. It's
K-On!
of course, another slice of life light comedy set in high school, but nothing like Nichijou. Five girls come together to form a rock and roll band, and play some cool music together in the light music club. And they spend most of their time drinking tea, eating cakes and having fun, and I can watch this series, the second series, and the feature film on a loop for the rest of my life and be in a state of eternal bliss.
In 2012, I got to see the third and final Kyo-Ani and Jun Maeda collaboration, and the favourite of many fans,
Clannad
, followed by the sequel, Clannad After Story. It has a similar vibe to Kanon, the mysterious girls with strange enigmas to be resolved, but Clannad managed to grab the viewer by the emotions on a wholly different level.
If Haruhi Suzumiya bought a sense of comedy sci-fi to high school, and K-On! did the whole 'cute girls doing cute things' slice of life stuff, then
Love, Chunibyo and Other Delusions
was a cross between the two. Chunibyo are those teenagers who can't let go of pre-teen fancies, who paint their worlds in fantasy colours, and who live at the centre of grand narrative universes that give meaning to the mundanity of life. This series wondered what happened when a normal-ish teenage boy fell in love with a delusional girl. It's another show whose popularity spun-off a second season, and two feature films.
It's around this time that KyoAni's reputation of the 'cute girls' genre was shaping audience expectations, and the studio both lived up to, and subverted those expectations with the shows they released. Early in 2013 came
Tamako Market
, a slice of life romantic comedy that was centred as much on a small shopping arcade as it was the usual high school. It's a coming of age piece where the catalyst for growing up is the arrival of a talking bird who takes a liking to the sweet mochi delicacies from the title character's family shop. This too spun off a feature film, which focused more on the romance.
If cute girls could do cute things, then so could cute boys. When KyoAni came up with
Free Iwatobi Swim Club
, it felt a bit strange, a simple attempt to appeal to the opposite demographic by gender switching the K-On! characters and changing the activity from music to sport. But by golly it works. It's no simple switch, with the characters appealing and entertaining in their own right, while making the show about swimming introduces a competitive element to the story, a striving for personal excellence which holds the attention. And cute boys do cute things as well. Free is one of KyoAni's most popular creations, spanning three seasons and five movies to date.
Cute girls could also do cute things in between fighting demons, as we learned in
Beyond the Boundary
. This is one of KyoAni's most visually effective creations, with stunning artwork and appealing character designs. A cute girl with a curse in her blood moves to a new school while hunting demons, and her first target is a boy who is half demon, Fortunately for their first meeting, he's immortal, and manages to survive it. She wears glasses, he's got a fetish about glasses, it's the start of a weird relationship. My favourite bit of the show is where they have to dance and sing to defeat a particularly putrescent demon. Once again this was a series that would spin-off two feature films.
It was a couple of years before I saw my next KyoAni production, and even then, I went straight back to the beginning when in 2015, Full Metal Panic was released here. The first season was animated by Gonzo, but for the second and third, KyoAni took up the duties, and in 2003 they released
Full Metal Panic? Fumoffu
. It was practically the first TV anime produced by KyoAni, and they took a giant robot comedy sci-fi anime, and turned it into a high school comedy anime with the occasional giant robot. They returned to the show's roots with The Second Raid, but for many, Fumoffu is still the highlight of the series.
You can't get away from that irascible bear, as 11 years later Bonta-kun would return as Moffle in
Amagi Brilliant Park
. I managed to watch these two shows pretty much back to back, and got to compare and contrast. This is less about war though, instead a show about a narcissistic boy drafted to save the fortunes of an ailing amusement park. The difference is that this magical wonderland was built by, and is operated by fairies.
I think one of the most effective and artistically significant things that KyoAni have produced is the
A Silent Voice
feature film. From a studio which usually goes for the light and inconsequential, however heart-warming those shows may be, A Silent Voice was a major departure with a serious message at its heart about bullying, and the effect that it can have. A boy bullied a deaf girl in elementary school, and was ostracised and bullied in turn for that behaviour. It's something that stays with him until high school, when he meets the deaf girl again, and has a chance to make amends. This could be one of KyoAni's finest productions.
Also in 2017, I finally got the chance to see
Hyouka
, another slice of life high school show, centring on an after school club, but one with a more reflective feel. It's about a boy who wants an easy life, despite his prodigious analytical gifts. His sister pressures him into keeping the school's literature club open, and he thinks that as the only member, he won't even have to turn up. But there is another member, a curious girl who he can't say no to, and she likes solving mysteries...
I got to see
Lucky Star
far too late, only watching the series last year. It's a companion piece to Haruhi Suzumiya, a show replete with pop culture references, sharing cast members, and causing just as big a splash with fans across the world. But this truly was a high school slice of life show, with KyoAni taking what shows like Azumanga Daioh had done, and redefining the genre rules which have stayed in play ever since. Cute girls do daft things in this comedy series, and there is plenty to appreciate even now, despite the show wearing its age.
Finally, last year, I got to see the first season of
Sound Euphonium
. Girls and music again, although this is nothing like K-On! Sound Euphonium is about the hard work and talent that goes into being part of an orchestra. It's a beautiful show with engaging characters and a story with a hook so powerful that you just can't eject that disc until it's over. It's also got some of KyoAni's finest work when it comes to animation. Sound Euphonium too has spun off feature films.
If there is a KyoAni show which I haven't mentioned, it simply means that I haven't seen it yet. I've listed every one of their productions or franchises that I have seen, and I have found much to love and adore about all of them, even the ones which aren't among my favourites. I hope that someday soon we'll see anime produced by KyoAni again, and more importantly, I hope that you'll join me in wishing solace to the bereaved, and a swift recovery to the injured.