Anime Review Roundup
It Never Rains, But It Pours: Part 1
I had thought 2008 was anime's Horrible Anus, the year when everything fell apart, when the bubble burst and companies dropped like flies. Well 2012 is turning out to be a Horribler Anus, as the New Year's removal of Bandai and Beez from the landscape was apparently just the beginning.
Last week it emerged that Media Blasters, a fairly small but popular distributor in the US was downsizing, cutting 60% of its workforce. That leaves a core base of some 5 or 6 employees, while those who were mostly responsible for media production have been let go. There was a positive spin immediately placed on this by CEO John Sirabella, stating that the intention was to rehire these people on a freelance basis. Media Blasters then strongly indicated their intentions to continue in the industry by announcing the Blu-ray release of Bakuman, and the licence rescue of fan-favourite Fushigi Yugi.
To counter this optimism, retailers have slashed the prices on much of Media Blasters' back catalogue, which is never a good sign. Either way, just as with Bandai and Beez, if you want a Media Blasters title, this is not the time to hesitate in opening your wallet.
News at ANN
It Never Rains, But It Pours: Part 2
To make matters worse, the biggest player in the US anime distribution business, Funimation, announced last week that they are suing the second biggest player in the US anime distribution business, Sentai Filmworks and the other related companies that were born of the ADV collapse, for $8 million. It all relates to how the collapse of ADV played out, the role of ARM and Sojitz, and the claim that as well as inheriting the licenses that ADV lost back then, Funimation also inherited a role as creditor, and that ADV's debt to ARM is now owed to Funimation. It's a legal morass that I don't have any hope of understanding, but my feeling is that when it gets to this stage, the only winners will be the lawyers, the highest paid of which will determine right and wrong, and the losers will be the anime fans.
But you also have to wonder just how dire the situation is for the anime industry, as it seems to this layman that only if sufficient cash isn't coming from your customers, would you resort to preying on your rivals.
Also in the UK, Manga Entertainment license and release titles from both Sentai and Funimation. I have a vision of Manga as the little child who has to choose between mummy and daddy in the divorce.
News at ANN
Manga Entertainment's Forthcoming Titles Announced
Otaku News have been interviewing various figures in the anime industry, last week they spoke to Andrew Partridge of Kazé, and there is an interview forthcoming with Jerome Mazandarani of Manga Entertainment. But ahead of posting that interview online, they've reported on some of the titles that were mentioned in that interview, although most have been announced or hinted at previously on Twitter and Facebook and the like. This time there are concrete dates for some, and explicit confirmation that Manga have Clannad, and Clannad After Story lined up.
Angel Beats 2-disc DVD and BD releases (in conjunction with Siren Visual/Sentai) End of April
Baka & Test (no date given)
Clannad 3-disc DVD (May/June) 4 volumes
Fairy Tale (March/May/August/September is tentative)
Hetalia World Series (July/Early August)
Hetalia Paint It White (June 18)
Ghost In The Shell: Solid State Society (May) DVD/Blu Ray Double Play with more extras added as well as extras from Bandai US release.
Strike Witches Season 2 (No date given)
Read more details at
Otaku News
.
Crunchyroll Goes High(er) Definition
For those of you with a subscription, you may already know that Crunchyroll have started streaming selected shows at a full 1080p resolution. This is from materials supplied to them by the Japanese licensors, not upscales of the 720p material that they have been streaming to date, although it has to be said that there isn't a lot of television anime that is animated at a native 1080p.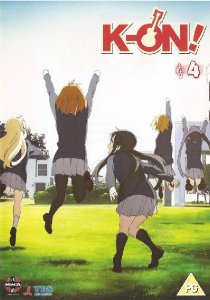 Two reviews for you last week, old and new, beginning with the new,
K-ON!: Volume 4
. The end of this show came far too quickly for this viewer, especially with the bad news that accompanied it. So we aren't getting the Blu-rays, so Bandai's decline means that the second series and the film probably won't be licensed in the West, this final volume still manages to wrap up the first series in inimitable style, the perfect confection of cuteness and charm. If you've been glued to this delightful tale of the most unlikely of rock bands getting together in high school, then this collection of three episodes will leave you with a warm glow, feeling better about the world. Find out just why by clicking the review.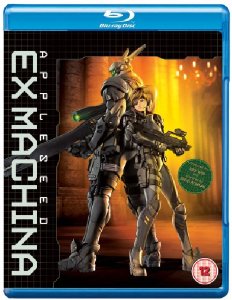 Then I took another trip into the back catalogue to take a look at some Blu-ray anime, something which looks less and less likely a certainty in the UK anime industry. I finally got to see
Appleseed: Ex Machina
, a film that I refused to watch on DVD when I learned that Warners was releasing it dub only. The original language audio remained a feature of the Blu-ray, which is why I had to wait until I finally got a Blu-ray player to watch it. The first Appleseed movie was a grand experiment, one of the first feature length CG animations made in Japan, and practically the first to use toon-shading to appeal to audiences more used to traditional anime styles. It was a qualified success, a decent story, action packed animation, but one limited by the technology and what the animators could accomplish. Appleseed: Ex Machina was made 3 years later. 3 years in CGI terms is a lifetime, and this time none other than John Woo was producing. See why Appleseed Ex Machina made my eyeballs beg for submission by clicking you know what.
Manga Entertainment released K-ON!: Volume 4 last Monday, while Appleseed: Ex Machina was released back in 2008.