MCM Expo News and Anime Review Roundup
The Latest News From Birmingham
There's been another gathering of the great and good this weekend, this time at the Midlands MCM Expo in Birmingham. The most notable representative of the UK anime scene present at the event was Manga Entertainment, and of course fans have been eagerly awaiting their new acquisitions. There was a lot to announce this spring, although many of the titles have been mentioned before. Scouring the Internet in places like Twitter, Anime UK News, UK Anime Network, and ANN, I've repeated some of the headline acts here.
Top of the list, and indeed announced earlier this week prior to the event, was
Dragonball Z
. Actually, given this one has been constantly teased, leaked, denied, and ranted about, ever since Manga first submitted Dragonball material to the BBFC, it felt to me more like the biggest non-announcement in history.
We'll be getting all 9 seasons of the series on a bi-monthly basis, beginning with the 39 episode season 1 this July. What may be a disappointment to some is that Manga have the Orange boxes of Dragonball Z, not the Dragonboxes. Dragonball Z has been Funimation's mainstay cash cow in the US, and has been released and re-released on countless occasions. The Orange boxes contain Dragonball Z, remastered from an HD source, but cropped from the original aspect ratio to create anamorphic transfers. Manga are hoping that this will be the start of a long and productive partnership with Toei animation that sees plenty of other shows in their stable brought to the UK, and if demand is sufficient, further releases of Dragonball Z.
Other titles already mentioned, and confirmed at the Expo include The Fullmetal Alchemist Movies, the most recent feature length outing,
The Sacred Star Of Milos
, and
The Conqueror of Shamballa
. The latter has been released here previously on DVD by Revelation, but will now be getting its UK Blu-ray debut as well. Manga also intend to release these as dual packs on 3rd September, while The Sacred Star of Milos will get a limited theatrical run, premiering at the BFI Anime Festival on 8th June. Also reconfirmed were
Baka & Test
due on DVD this May (
Baka & Test Season 2
was subsequently announced for 9th July),
Hetalia: Paint It White
movie for June, and
Hetalia World Series
for July.
Shows which were only rumoured to this point, and have just been confirmed, include the heavily tweeted about
Puella Magi Madoka Magica
and
Blue Exorcist
, both of them licensed from Aniplex, and both of them being released on DVD only, with Blue Exorcist being a rare sub-only release from Manga. Actually Blue Exorcist's timing seems a little odd, as Aniplex have recently announced a dub re-release for the show, and maybe it would have been worth delaying it until that was available. Another oddity is the lack of a Blu-ray for Madoka Magica, as its US and AU Blu-rays are proving very popular. Manga Entertainment cited import concerns behind this decision, only a week or so after Aniplex's main retail outlet, TRSI was restricted from exporting Aniplex titles outside the US and Canada. At this time, anyone in the UK looking to get Blu-ray Madoka Magica will find a few more hoops to jump through. It's reminiscent of Funimation only region locking their FMA releases after the cancellation of the UK version.
Update: A subsequent Facebook post implies that Manga are reconsidering their position with regards to the Madoka Magica Blu-ray.
Titles which come out of the blue include,
Okami-san & Her Seven Companions, Panty & Stocking With Garter Belt, Squid Girl, The World God Only Knows
(late summer)
, Princess Resurrection
(August), and
Chaos;Head
(22nd October).
The fact that of these announcements only the FMA movies have associated Blu-rays, and not even the single release, twelve episode series get the high definition treatment already available for them in other territories is something of a disappointment. Fortunately Kaze, who have European penetration to bolster HD sales, have a host of announcements to make over the next few weeks. It's already emerged that they will be bringing the
Bakuman
anime to the UK and Europe, and at MCM, Manga hinted that either they or MVM have the rights to
Beelzebub
.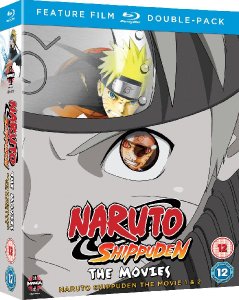 But Manga Entertainment do have Blu-rays for you this week, and I have reviewed them. What's more, they have what seems to be a UK exclusive. The
Naruto Shippuden Movies 1 & 2 Double
was my review target this week, the UK debut of the world's orangest ninja in high definition. The second movie, Naruto Shippuden: The Movie 2 - Bonds is being released for the first time in the UK this April, and it sees our favourite eternal Genin facing off against a clan of flying ninja, and helping a doctor and his apprentice save their village. It's classic theatrical ninja action with just the ingredients you would expect from a Naruto feature film. Also out this week, exclusively as part of this dual pack, is the Blu-ray release of the first Naruto Shippuden Movie. And try as I might, I just couldn't find a Blu-ray release of Naruto Shippuden: The Movie in any other English speaking territory. We have here a UK exclusive. Now that's something to grin about.
The Naruto Shippuden Movies 1 & 2 Double is out today on Blu-ray and DVD courtesy of Manga Entertainment. If you want just Bonds alone, it does have a single Blu-ray and DVD release, but if you want the first Naruto Shippuden movie, it only has a DVD release. For the Blu-ray you'll have to pick up the twin pack.