Anime Review Roundup
News Snippets From Expo and More
Anime Expo took place in the US this weekend, and it's always worth keeping an eye on, as what gets released in the US may eventually filter its way around the world to the UK, although unfortunately not everything, and with US anime Blu-rays increasingly being locked to Region A, or geo-locked to the US, that's a state of affairs that has me whimpering ever more. But license announcements and license-rescues that caught my eye this week include Death Note on Blu-ray from Viz, Higurashi: When They Cry from Sentai, Nozomi/Right Stuf's first Blu-ray releases in the form of Revolutionary Girl Utena, and the first Gundam Series, and from Funimation, the original Full Metal Alchemist Series (the better one) on Blu-ray! And no, no mention of Evangelion 3.33... Find out more information from
Anime News Network
.
Closer to home, it was Anime Limited with the announcements. It's the start of the summer streaming season, with companies like Crunchyroll and Funimation filling up their schedules. Anime Limited is a little different in that they have gone on the record as saying there's no point in getting a streaming license if a physical license isn't there too. So when they announce a streaming title, it's most likely that we will see that show, just as happened with Kill la Kill and Space Dandy, on DVD and Blu-ray in a year or so. So this week's announcement of Viewster streaming
Castle Town Dandelion
and
Aoharu x Kikanju
is an announcement to make note of. Click on the titles for Anime Limited's blog posts.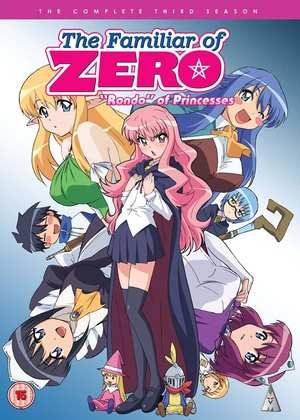 The 29th of June has passed, which means that the anime has dried up again. It's just a matter of cleaning up the few stragglers and late items. July's anime releases look to be more evenly spread, although July 20th promises to be another roadblock. Last week, there was only the one anime review, and that was for
Familiar of Zero: Season 3
. It's the further adventures of the misplaced cosmopolitan Tokyo boy, now trapped in a magical world, made familiar to a an inept witch named Louise. Only in this series it looks like their relationship has to be re-evaluated when their contract is dissolved. They don't have long to sort it out, as there are other Void wizards plotting world domination, and Louise is a target. Click on the review to read more about this old-school style anime.
Couldn't find an official trailer on Youtube (although did find loads of pirated episodes) so here's the trailer for season 2 again!
This Week I've Been Mostly Rewatching...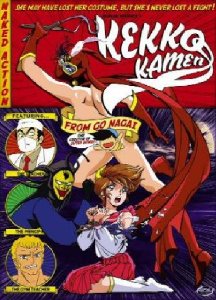 Kekko Kamen. Yes, I actually went there. Last week it was all about the fan service, the panty shots, and the prurient camera angles in an otherwise thoughtful sci-fi action show, Najica Blitz Tactics. Kekko Kamen dispenses with the thought, and it dispenses with the panties too, in Go Nagai's spoof superhero show, which sees the heroine fighting evil in the altogether, save a mask and a pair of boots. Given the animation quality, the titillation value is low. It's very much a show of its era. But when it comes to satire and just plain silliness, Kekko Kamen is pretty entertaining, and deliciously politically incorrect. Here's a not safe for work, but safe enough for Youtube trailer.
Here's a review wot I wrote of
Kekko Kamen
a few years ago, and it's still valid today. It's very much post-pub entertainment. Kekko Kamen has been deleted now, but the old ADV disc can still be found second hand. The US disc is similarly deleted. Of course you can always try last year's
HK Forbidden Superhero
live action movie from Manga for something similarly perverse.
Familiar of Zero: Season 3 was released last Monday, 29th of June on DVD and Blu-ray by MVM.