Revolutionary Girl Utena: Part 2 - Blu-ray Collector's Edition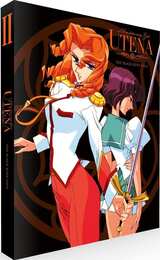 The Black Rose Saga
Certificate: 15
Running Time: 282 mins
Retail Price: £59.99
Release Date: 2020
Content Type: TV Series
Synopsis:
The Legendary Shojo Anime Series Comes to Blu-ray!

Utena and Anthy have become close during their time as roommates. So when Anthy casually mentions she has a brother, Utena can't help but feel shocked. She thought she knew Anthy, but the longer she and Anthy are friends, the more she discovers she doesn't know. What other secrets could Anthy be keeping?

However, Utena won't have time to dwell upon such matters. A new group of duelists has emerged from the shadows. These new challengers wear black rose signets and also seek revolution, but their methods are different than those of Ohtori's Student Council. They don't wish to possess Rose Bride; they want to kill her.

Episodes 13-24 in Japanese and English with English subtitles.
Special Features:
Includes episodes 13-24, "The Black Rose Saga" with both English and Japanese with English subtitles viewing options.

Comes packed in a rigid case. Inside is an amaray case to hold the 3 Blu-ray discs. Also included inside is a poster (34x40cm) and 5 art cards.

On-disc extras: Animated Art Boards Gallery, Japanese promo, and interviews with director Kunihiko Ikuhara.

Video Tracks:
1.33:1 pillarboxed 1080p

Audio Tracks:
PCM 5.1 Surround Japanese
PCM 2.0 Stereo Japanese
PCM 2.0 Stereo English

Subtitle Tracks:
English

Directed By:
Kunihiko Ikuhara

Written By:
Yoji Enokido
Be-PaPas
Chiho Saitō

Starring:
Tomoko Kawakami
Yuriko Fuchizaki
Aya Hisakawa
Chieko Honda
Kotono Mitsuishi
Takehito Koyasu
Takeshi Kusao
Yuka Imai
Rachael Lillis
Sharon Becker
Annie Pondel
Crispin Freeman
Jack Taylor
Jimmy Zoppi
Mandy Bonhomme
Roxanne Beck

Music From:
J. A. Seazer
Shinkichi Mitsumune

Director of Photography:
Toyomitsu Nakajo

Editor:
Shigeru Nishiyama

Producer:
Noriko Kobayashi
Shinichi Ikeda

Distributor:
All the Anime