Gundam - Reconguista in G - Complete Box Set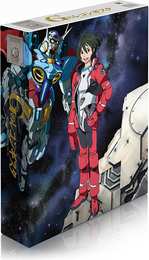 Gundam enters a whole new era!
Certificate: 12
Running Time: 635 mins
Retail Price: £59.99
Release Date: 2016
Content Type: TV Series
Synopsis:
The Universal Century, an era of historic migration into space and space wars has ended, and some time has passed.

It's now Regild Century Year 1014 (R.C. 1014) where the creation of humanoid mobile suits of war is now taboo and Earth is connected to space via the sacred orbital elevator, Capital Tower, which humanity uses to bring energy in the form of Photon Batteries to the surface.

Bellri Zenam is a cadet in the Capital Guard, the protectors of the tower. During a training exercise pirates attack the tower and Bellri crosses paths with the G-Self, a mobile suit with unknown technology. Bellri is successful in capturing the suit and it's pilot, Aiida Reihanton, and soon discovers the G-Self, which should only be operable under certain conditions, will now move under his own hand. Now Bellri must pilot the G-Self to uncover the mysteries behind the space pirates, the G-Self and his own destiny. These truths will shake the entire Regild Century to it's core and this is just the beginning of Reconguista.?
Special Features:
Textless Credits
Promo Video

Video Tracks:
1.78:1 widescreen 1080p

Audio Tracks:
DTS-HD MA 2.0 Stereo Japanese

Subtitle Tracks:
English
French

Directed By:
Yoshiyuki Tomino

Written By:
Yoshiyuki Tomino
Hajime Yatate

Starring:
Mark Ishii
Yu Shimamura
Akio Hirose
Atsuko Tanaka
Ayahi Takagaki
Minako Kotobuki
Ryota Ohsaka
Takuya Sato
Yukari Fukui

Music From:
Yuugo Kanno

Director of Photography:
Yui Tanaka

Editor:
Daisuke Imai

Producer:
Hiroyuki Kikugawa
Naohiro Ogata
Toshihiro Maeda

Executive Producer:
Hiroo Maruyama
Shin Sasaki

Distributor:
All the Anime