Martian Successor Nadesico - Collector's Edition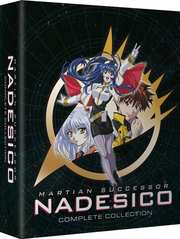 Get ready for the wildest space adventure ever!
Certificate: PG
Running Time: 686 mins
Retail Price: £59.99
Release Date: 2017
Content Type: TV Series
Synopsis:
The Earth, its moon and its Martian colonies are under alien attack, but the war against the "Jovian lizards" has, so far, been nothing short of a series of disasters.

Disgusted by the incompetence of Earth's military, the independent arms manufacturer Nergal builds its own space battleship and plans to launch a desperate offensive to save humanity. But due to a shortage of trained soldiers, they've assembled the most unorthodox crew to ever launch into orbit! With a pacifist cook-turned-unwilling mecha pilot and a ditsy admiral's daughter in command, can this unprecedented gathering of geeks, misfits and anime fans prevail against the Jovian menace?

Contains the full TV series (26 episodes) and the film "Prince of Darkness" on Blu-Ray and with both the English dub and the original Japanese track with English subtitles.

Also included is a DVD full of extras including the Gekiganger 3 OVA, all presented in Collector's packaging, and also includes 9 art cards and stickers.
Special Features:
Interviews with Actors and Staff
"Welcome to Belle Equipe" Documentary
"Nadesico Sorekara" Special
Previews.

Video Tracks:
4:3 pillarboxed 1080p
1.85:1 widescreen 1080p (movie only)

Audio Tracks:
PCM 2.0 Stereo English
PCM 2.0 Stereo Japanese
PCM 5.1 Surround Japanese
PCM 5.1 Surround English (movie only)

Subtitle Tracks:
English

Directed By:
Tatsuo Sato

Written By:
Tatsuo Sato
Hiroyuki Kawasaki
Miho Sakai
Naruhisa Arakawa
Satoru Akahori
Shou Aikawa
Takeshi Shudo

Starring:
Houko Kuwashima
Yuji Ueda
Kentarou Itou
Miki Nagasawa
Naoko Matsui
Naoko Takano
Tomokazu Seki
Omi Minami
Jennifer K. Earhart
Spike Spencer
Brett Weaver
Heather Bryson
Jenny Strader
Kira Vincent-Davis
Mark X. Laskowski
Tamara Lo

Music From:
Takayuki Hattori

Director of Photography:
Hiroaki Matsuzawa
Yukio Sugiyama

Editor:
Naoyuki Masaki

Producer:
Kyoko Kobayashi
Shinichi Ikeda
Toru Sato

Distributor:
All the Anime