Eureka 7 - Ultimate Edition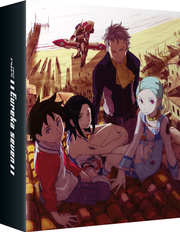 The time has come to fight or die.
Certificate: 12
Running Time: 1204 mins
Retail Price: £179.99
Release Date: 2017
Content Type: TV Series
Synopsis:
Relive the classic era of anime with the studio that brought you Escaflowne, Fullmetal Alchemist, and Wolf's Rain. Returning to the spotlight after almost a decade, Eureka Seven – the greatest anime love story ever told – makes its long-awaited arrival on Blu-ray!

Renton is a teenager trapped working as a mechanic in a backwater town. He dreams of joining up with a daredevil group of pilots known as Gekkostate and following in his father's heroic footsteps.

When a mysterious beauty named Eureka shows up asking for a tune-up, Renton soon finds himself drawn into a high-flying mecha dogfight that makes him a target of the military. When the dust settles on the spectacular battle, Renton is invited to join Gekkostate, but he soon discovers that even a dream come true has a dark side.
Special Features:
The entire series, 50 episodes, in both English and original Japanese with subtitles
The discs will be housed inside two separate digipacks (both exclusive to this Ultimate Ed.) and those digipacks will then be housed inside their own rigid case (that is also exclusive to this Ultimate Ed.)
Also included an exclusive A3 sized poster (pictured bottom right) that will be house on arrival inside its own poster tube inside the same box as all the other contents.
An exclusive A4 sized 144-page Art Book that has art split into 5 sections -
Part 1: Characters
Part 2: LFOs
Part 3: The World of Eureka Seven
3.1: Settings
3.2: Props
Part 4: Animation in Action
Part 5: Artworks

On-Disc Extras across the 6 x Blu-rays and 1 x DVD disc:

Episode 01 Commentary with Yuko Sanpei (Renton) and Kaori Nazuka (Eureka)
Episode 07 Commentary with Yuko Sanpei (Renton), Kaori Nazuka (Eureka) and Mamoru Miyano (Moondoggie)
Episode 13 Commentary with Yuko Sanpei (Renton), Kaori Nazuka (Eureka) and Shigenori Yamazaki (Dominic)
Episode 15 Commentary with Yuko Sanpei (Renton), Kaori Nazuka (Eureka), Akio Nakamura (Matthieu) and Mayumi Asano (Hilda)
Episode 20 Commentary Yuko Sanpei (Renton), Kaori Nazuka (Eureka) and Keiji Fujiwara (Holland)
Episode 26 Commentary with Yuko Sanpei (Renton), Kenichi Yoshida (Character Designer) and Masayuki Miyaji (Storyboard Artist)
Textless Opening Song #1
Textless Opening Song #2
Textless Ending Song #1
Textless Ending Song #2
Episode 27 Commentary with Yuko Sanpei (Renton), Kaori Nazuka (Eureka), Jurota Kosugi (Charles) and Aya Hisakawa (Ray)
Episode 32 Commentary with Yuko Sanpei (Renton), Kaori Nazuka (Eureka) and Ami Koshimizu (Anemone)
Episode 36 Commentary with Yuko Sanpei (Renton), Kaori Nazuka (Eureka), Eriko Kigawa (Maeter) and Fumie Mizusawa (Gidget)
Episode 39 Commentary with Yuko Sanpei (Renton), Kaori Nazuka (Eureka), Yasunori Matsumoto (Stoner) and Taro Yamaguchi (Hap)
Episode 43 Commentary with Yuko Sanpei (Renton), Kaori Nazuka (Eureka) and Koji Tsujitani (Dewey)
Episode 50 Commentary with Yuko Sanpei (Renton), Kaori Nazuka (Eureka), Kazuhiro Wakabayashi (Sound Director) and Tomoki Kyoda (Director)
Interview with Yuko Sanpei (Renton) & Kaori Nazuka (Eureka)
Interview with Keiji Fujiwara (Holland) and Michiko Neya (Talho)
Interview with Stephanie Sheh (Eureka)
Interview with Johnny Yong Bosch (Renton)
Interview with Crispin Freeman (Holland)
Interview with Kate Higgins (Talho)
Episode 50 (Special Textless Version)
Textless Opening Song #3
Textless Ending Song #3
U.S. Trailer

Video Tracks:
4:3 pillarboxed 1080i

Audio Tracks:
Dolby TrueHD 2.0 Stereo English
Dolby TrueHD 2.0 Stereo Japanese

Subtitle Tracks:
English

Directed By:
Tomoki Kyoda

Written By:
Dai Sato

Starring:
Kaori Nazuka
Keiji Fujiwara
Michiko Neya
Yuko Sanpei
Ami Koshimizu
Kouji Tsujitani
Shigenori Yamazaki
Crispin Freeman
Johnny Yong Bosch
Kate Higgins
Stephanie Sheh
Kari Wahlgren
Kim Strauss

Music From:
Naoki Sato

Director of Photography:
Shunya Kimura
Toshiya Kimura

Editor:
Hiroaki Itabe
Yoshiki Ushiroda

Producer:
Atsushi Yukawa
Hirofumi Inagaki
Hiroo Maruyama
Hiroshi Morotomi
Koutaro Nakayama

Distributor:
All the Anime