Mobile Suit Gundam Wing: Endless Waltz - Collector's Edition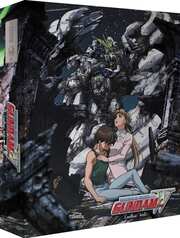 The conclusion to the Gundam Wing saga
Certificate: PG
Running Time: 445 mins
Retail Price: £44.99
Release Date: 2020
Content Type: TV Series
Synopsis:
After Colony 196. Tranquility has spread through the Earth Sphere and the colonies are at peace.

The Gundam pilots find themselves attempting to rebuild their lives in this new era. No longer having need of their weapons of war, they have sent their Gundams into the sun to be destroyed. But suddenly, Relena Darlian, who has become a high- ranking government official, is kidnapped by a colony with aspirations of total domination.

The Gundam pilots and their allies find themselves called into action once again. The Endless Waltz has resumed...
Special Features:
Contains Gundam Wing Endless Waltz (3 x OVA and Film versions) with English and original Japanese with English subtitles viewing options.

Also contains all four of the never-before-released in the UK "Operation Meteor" OVAs. (They are in Japanese with English subtitles only, as no English dub was produced for them.)

This set comes packed in a rigid case, with an amaray to hold the 4 Blu-ray discs. Also included are 5 art cards and a 28-page settings booklet.

Clean Endings
Original next episode previews

Video Tracks:
4:3 pillarboxed 1080p

Audio Tracks:
PCM 2.0 Stereo English
PCM 2.0 Stereo Japanese
PCM 5.1 Surround English

Subtitle Tracks:
English

Directed By:
Masashi Ikeda
Shinji Takamatsu

Written By:
Katsuyuki Sumisawa
Hajime Yatate
Yoshiyuki Tomino

Starring:
Ai Orikasa
Akiko Yajima
Hikaru Midorikawa
Ryuuzou Ishino
Shigeru Nakahara
Takehito Koyasu
Toshihiko Seki
Chisa Yokoyama
Ryotaro Okiayu
Sayuri
Brad Swaile
Brian Drummond
Kirby Morrow
Lisa Ann Beley
Mark Hildreth
Scott McNeil
Ted Cole
David Kaye
Enuka Okuma
Saffron Henderson

Music From:
Kou Otani

Director of Photography:
Youichi Oogami

Editor:
Shigeyuki Yamamori
Toshio Henmi

Producer:
Hideyuki Tomioka
Masuo Ueda
Yoshiaki Koizumi

Distributor:
All the Anime