Anime Review Roundup (Updated)
Well, I say review roundup, only there are no anime reviews this week, just news...
How To Make An Announcement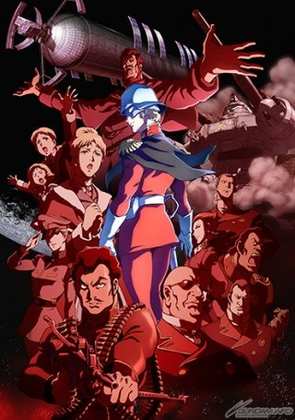 Mobile Suit Gundam: The Origin
is coming to the UK! Just like Gundam Unicorn before it, Origin is getting a worldwide simultaneous release on Blu-ray, with an English dub. Just like Unicorn, you'll have to buy it semi-direct, from whatever few retailers will stock it. Unlike Gundam Unicorn though, there will be an easy way to get a hold of this title, as Anime Limited are distributing it in the UK for Bandai Visual. They'll make sure all the customs and delivery are taken care of, and all you have to do is pay the extravagant cost of a title imported directly from Japan. Note that this title is available as a pre-order only. Don't expect to be able to buy it at retail after the release date.
Click on
Anime Limited's blog post
to read all the details.
For those without deep wallets, Anime Limited have stated an interest in releasing this show in a more barebones form later on down the line on the All the Anime label.
How To Not Make An Announcement
Last week, when Anime on Line was updating their retail listings with the forthcoming MVM titles, someone at the Anime UK News forums spotted a listing for
The Ambition of Oda Nobuna
, which was hastily removed. It was then spotted again at the UP1 retail site, and the
link for the DVD and Blu-ray
is still extant there. They still haven't officially commented but it's fair to assume that MVM will be bringing this title to the UK.
How Not To Make An Announcement
This weekend, Manga Entertainment have been riding the hype machine on social media, getting the fandom into a frenzy about their new 'big announcements'. The first splash came in the form of
Bleach: Season 14 Part 2
. That's the next instalment in a series that Kazé release, are probably contractually obligated to release, would be coming anyway, and is hardly news. But all was not lost. Manga had another announcement!
Nisekoi Season 1 Part 1
in Q2! And we already know from Aniplex US that Kazé have licensed this title for Europe, and unless something drastic has changed it too will be a Kazé release in the UK. Finally there was
Bleach: Season 15 Part 1
announced.
So less big announcements than they were gentle reminders.
That was until today, when details of release format and dates were confirmed, which is when they become announcements...
Bleach 14 Part 2 on DVD – 6th April
Bleach 15 Part 1 on DVD – 25th May
Nisekoi Part 1 on DVD and Blu-ray (Episodes 1-10) – 20th April 2015
Update: Animatsu's Gatchaman Crowds Announcement


Neo Magazine has revealed
the release date of new label Animatsu's first anime release, and Gatchaman Crowds will be among us on Blu-ray (£39.99) and DVD (£24.99) on April 27th 2015.
That's all until next week.