Escaflowne Complete TV Series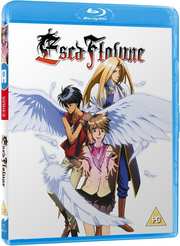 The classic anime series now in high definition.
Certificate:
Running Time: 627 mins
Retail Price: £39.99
Release Date: 2017
Content Type: TV Series
Synopsis:
Hitomi Kanzaki is a typical high school girl, with typical problems, but when a vision of a young man battling a dragon becomes a reality, her life changes forever. Drawn into a strange vortex with the swordsman, Van, Hitomi is thrust into the strange world of Gaea.

Van must learn to master the suit of armor, Escaflowne, before he and Hitomi are crushed by the ambitions of the Empire of Zaibach. Van and Hitomi will encounter both allies and enemies in an effort to unlock the secrets within Escaflowne, and Hitomi's heart, stirred by love and adventure, will, at times ache with sorrow. But why was she sent to this world? Find out in a classic tale of fantasy and adventure!

Includes Director's Cut Episodes, and new English dub.
Special Features:
Escaflowne Music Video
"Club Escaflowne" Featurette
Textless Credits
Playstation Game Footage
Maaya Sakamoto Concert Video

Video Tracks:
4:3 pillarboxed 1080p

Audio Tracks:
Dolby Digital 2.0 Stereo English
DTS-HD MA 5.1 Surround English
PCM 2.0 Stereo Japanese

Subtitle Tracks:
English

Directed By:
Kazuki Akane

Written By:
Shoji Kawamori
Hajime Yatate

Starring:
Maaya Sakamoto
Tomokazu Seki
Ikue Ohtani
Jouji Nakata
Juurouta Kosugi
Kouji Tsujitani
Mayumi Iizuka
Minami Takayama
Narumi Hidaka
Shinichiro Miki
Kelly Sheridan
Kirby Morrow
Andrew Francis
Brian Drummond
Jocelyne Loewen
Michael Dobson
Nicole Oliver
Paul Dobson
Saffron Henderson
Venus Terzo

Music From:
Yoko Kanno

Director of Photography:
Kazunobu Okeda

Editor:
Tomoaki Tsurubuchi

Producer:
Masahiko Minami
Yumi Murase

Distributor:
All the Anime