Anime Review Roundup
Sneaky Christmas License Announcements!
I bet you thought you'd be safe to step away from the Twitter feed and spend some time in the company of your television screen, watching the Doctor Who Christmas Special, Morecambe and Wise and The Great Escape. Okay, so I don't watch broadcast TV at Christmas anymore! Doesn't stop me buying the Christmas Radio Times and tutting at all the crap that's on...
Thank God for the DVD player, and the ultimate Christmas anime, Tokyo Godfathers, which got another airing this year. But while you were gradually inflating on partially digested sprouts and avoiding the relatives, there were a few license announcements courtesy of Twitter and Neo Magazine.
Anime Limited a.k.a. All the Anime have licensed the classic
The Vision of Escaflowne
series, and will be bringing it back to the UK, this time re-mastered on Blu-ray.
Manga Entertainment have
The Devil is a Part Timer
on DVD & Blu-ray,
High School DxD
on DVD & Blu-ray, and
Aesthetica of a Rogue Hero
, although no formats have been confirmed for the latter.
Manga also have the
Blue Exorcist movie
, and
Robotics;Notes
(note the semi-colon, it's from the creators of Steins;Gate!).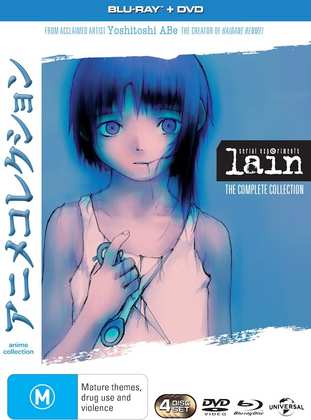 Just one anime review last week, but it's a title that I have wanted to watch ever since I heard of its release.
Serial Experiments Lain
was the cyberpunk, mind-bending sci-fi that sucked me back into anime fandom some ten or so years ago. It was the show that proved what this medium was capable of, genuinely challenging narrative and character development, and not just the sex, swears and violence excess that initially appealed to my adolescent mind. This was cutting edge sci-fi that played with ideas of thought, consciousness and the way people interacted with one another, using the then nascent technology of the Internet as a storytelling device. Serial Experiments Lain is 15 years old now, made when anime was still shot on film, and that means that it looks a world away from those early DVDs, re-mastered on Blu-ray. But 15 years of living with the Internet might just mean that this show has dated. See whether that's true by clicking on the review.
Serial Experiments Lain: The Complete Series on Blu-ray is an Australian release from Sony Universal, and it came out back in July.