Anime Review Roundup
New Licenses Aren't Just For Expos...
...As Anime Limited's Andrew Partridge expounded in an interview last week. He let slip that All the Anime have Fate/kaleid liner Prisma Illya, which re-imagines Fate/Stay Night's Illyasviel von Einzbern as a Magical Girl, the same way that Pretty Sammy did for Tenchi Muyo's Sasami. Magical Girl anime shows are pretty light on the ground in the UK, after Sailor Moon didn't quite take off for MVM back in the noughties. This might just be the opportunity for the wand-wielding champions of justice to grab a foothold in the UK market.
News from ANN
Animax Announce New Shows
Animax is the successor to Anime on Demand, and it inherited a certain exclusivity when it comes to Viz Media and Kaze licenses. Last week, that exclusivity came to an end, when they announced five more shows to be added to their stable, five shows which began this spring, and on which they'll be playing catch-up. They're all Funimation shows, four of which have been locked behind Funimation's Geo-Wall away from UK audiences, making this development on Animax's part a most positive one. You can now watch Fairy Tail, Daimidaler: Prince Vs. Penguin Empire, Riddle Story of Devil, Selector Infected WIXOSS, and Dragonar Academy as well as their existing licenses. Animax have also lowered their subscription prices by a pound, to £4.99 a month. They've also shifted with immediate effect to the Crunchyroll access model, at least at first. Subscribers get exclusive access to the episodes for a week, before they are streamed for free to the general public. However unlike Crunchyroll, the general public still only has a two week window to watch the episode before it's locked behind a paywall again.
News from UK Anime Net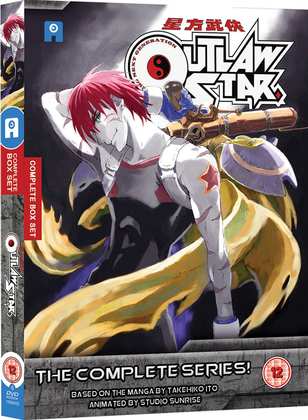 Two reviews for you this week, beginning with the long anticipated, and much belated arrival of
Outlaw Star Complete Collection
. It's actually the second time that it has been released in the UK, Beez originally released the space adventure several years ago. But this release is something special, having sourced the remastered version from Japan. The show has had a proper clean, they've gone back to the original film to source a progressive encode for the discs, and the difference between the two versions is like night and day. It's a pretty neat, old school anime too, a rollicking space adventure with Outlaws and Pirates, Assassins and Catgirls, a naked girl in a suitcase, and a galactic mystery that stretches back thousands of years. And it's got in its hero Gene Starwind, a man who's afraid of space travel. He's the one with the spaceship!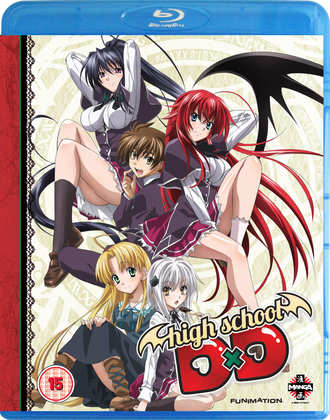 Finally it was the turn of
High School DxD: Complete Series Collection
, which instantly is a misnomer, given that High School DxD New was broadcast last year, a second series. Anyway, this show is about boobs. It's about breasts, bazongas, tits, knockers, jugs, melons and whatever other term springs to mind. You might think it's about a high school pervert who gets killed on his first date, and is then resurrected as a devil, caught in the middle of a battle between Heaven and Hell, Devils, Angels and Fallen Angels, with the odd stray priest thrown in. It's not really. It's about the tits! This show would be broadcast on the Nippleodeon network if there was one.
All The Anime released Outlaw Star: Complete Collection on DVD last Monday, while Manga Entertainment's High School DxD: Complete Series Collection bounced onto Blu-ray and DVD two weeks ago on the 26th of May.