Cowboy Bebop Collectors Edition Part 1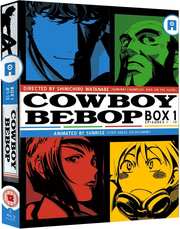 I think it's time to blow this scene. Get everybody and the stuff together. Ok, three, two, one let's jam!
Certificate: 15
Running Time: 317 mins
Retail Price: £39.99
Release Date: 2013
Content Type: TV Series
Synopsis:
The crew of the Bebop is once again ready to clean up space by bringing bad guys to justice and trying to make some cash while doing it!

Now for the first time ever this Anime classic is available in amazing high-definition Blu-Ray and packaged in a limited edition slipcase and containing bonus content never available outside of Japan before including a 40 page booklet.

Join the always-cool Spike Spiegal, investigative genius Jet Black, the alluring Faye Valentine, the amazing (but weird) Ed and the super-smart Welsh Corgi named Ein as they try to make a buck in the year 2071. How do they do it? They're bounty hunters!
Special Features:
Audio Commentaries (episodes 1,5 and 10)
40 page booklet
Japanese Blu-ray commercials
Japanese DVD Commercials
Full Size Music Clip for Tank!
Tank! (Bebop AVEdit) remix by DJ Food
Clean Credit Sequences

Video Tracks:
1080i 60Hz Pillarboxed 4:3

Audio Tracks:
DTS-HD MA 5.1 Surround English
DTS-HD MA 5.1 Surround Japanese

Subtitle Tracks:
English

Directed By:
Shinichirô Watanabe

Written By:
Michiko Yokote
Hajime Yatate
Ryota Yamaguchi
Shinichirô Watanabe
Dai Sato
Keiko Nobumoto
Akihiko Inari
Sadayuki Murai

Starring:
Aoi Tada
Megumi Hayashibara
Unshô Ishizuka
Kôichi Yamadera
Melissa Fahn
Wendee Lee
Beau Billingslea
Steven Jay Blum

Music From:
Yôko Kanno

Director of Photography:
Yoichi Ogami

Editor:
Tomoaki Tsurubuchi
Shinichi Sugawara
Makoto Imazuka

Producer:
Masahiko Minami
Yutaka Maseba
Haruyo Kanesaku
Kazuhiko Ikeguchi

Distributor:
All The Anime