Cowboy Bebop Collectors Edition Part 2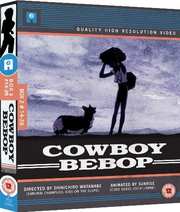 I think it's time to blow this scene. Get everybody and the stuff together. Ok, three, two, one let's jam!
Certificate: 15
Running Time: 319 mins
Retail Price: £39.99
Release Date: 2013
Content Type: TV Series
Synopsis:
The crew of the Bebop is once again ready to clean up space by bringing bad guys to justice and trying to make some cash while doing it!

While focussed on their constant struggle to capture bounties and pay the bills - perhaps the crew of the Bebop should be more concerned by what may catch up with them. Ghosts from the past, psychedelic mushrooms and justice-obsessed cowboys - Spike, Jet, Faye, Ed and even Ein have their work cut out in the final half to the series!

Contains never seen before linearts in a 40 page booklet along with Ein s Summer Holiday and more!
Special Features:
Audio commentaries on episodes 17 and 24.
Ein's Summer Holiday
40 page art booklet featuring designs from Cowboy Bebop.

Video Tracks:
1080i 60Hz Pillarboxed 4:3

Audio Tracks:
DTS-HD MA 5.1 Surround English
DTS-HD MA 5.1 Surround Japanese

Subtitle Tracks:
English

Directed By:
Shinichirô Watanabe

Written By:
Michiko Yokote
Hajime Yatate
Ryota Yamaguchi
Shinichirô Watanabe
Dai Sato
Keiko Nobumoto
Akihiko Inari
Sadayuki Murai

Starring:
Aoi Tada
Megumi Hayashibara
Unshô Ishizuka
Kôichi Yamadera
Melissa Fahn
Wendee Lee
Beau Billingslea
Steven Jay Blum

Music From:
Yôko Kanno

Director of Photography:
Yoichi Ogami

Editor:
Tomoaki Tsurubuchi
Shinichi Sugawara
Makoto Imazuka

Producer:
Masahiko Minami
Yutaka Maseba
Haruyo Kanesaku
Kazuhiko Ikeguchi

Distributor:
All The Anime