Anime Review Roundup
A Couple Of Crunchyroll Charms
With a lull in anime review discs over the holidays, I've been catching up a little with my online streaming. Of course being this far behind means that I have the benefit of marathoning series, rather than waiting for each subsequent episode on a weekly schedule. That means that many of you will already be aware of my 'latest' discoveries. For everyone else though, a couple of shows that are well worth checking out on Crunchyroll are Gintama and Gosick.
Gosick
(rhymes with Gothic) is a hidden gem of a show. Its premise of a doll-like, haughty princess in a tower, possessing a towering intellect, solving mysteries with the aid of her put-upon and unlikely champion, early in the twentieth century, bears a lot in common with last year's similar title The Mystic Archives of Dantalian. But Gosick towers above it in execution. Its storytelling, world building and characters are absolutely enthralling, taking some of the current anime clichés, but creating something fresh and exciting. Fans were overjoyed when Bandai licensed it for US release, and then heartbroken when Bandai folded. Since then, Australia's Madman Entertainment have reaffirmed their commitment to releasing it, sub only if necessary, while Funimation have been sniffing out fan opinion on the show in the US, and may just pick it up and release it anyway. You can't keep a show like Gosick down for long.
Quote:
GOSICK takes place in 1924 in a small, made-up European country of Sauville. It centers on Kazuya Kujo, the third son of a Japanese Imperial soldier, who is a transfer student at St. Marguerite Academy and Victorique, a mysterious yet beautiful and brilliant girl who never attends class and spends her days reading the entire content of the library or solving mysteries that even detectives can't solve. They meet at St. Marguerite Academy, where urban legends and horror stories are all the rage.
I have also started climbing up Mount Gintama.
Gintama
is one of those long-running shonen shows that just keep going and going. We in the UK have experienced Naruto and Bleach, and Fairy Tail will be coming in a few months as well. But there are countless others like One Piece, Case Closed, Urusei Yatsura, Eyeshield 21, and Dragonball Z that we haven't seen, and given the UK market aren't likely to see anytime soon on home video formats. This is where online streaming services really come into their own, and one long running show that Crunchyroll has been streaming for years is Gintama. But Gintama is different from Naruto and Bleach, in that it's a comedy, and a wacky, bizarre comedy at that. It's set in an alternate Shogun era period where aliens invaded Japan instead of Commodore Perry, and suddenly everyone's living in a high tech world. The story focuses on the Odd Jobs company formed by a fallen samurai named Gintoki, and the thirty-odd episodes I have seen so far are hard to categorise when it comes to their stories, other than they are hilarious more often than not. With the series at 244 episodes and counting, I can envisage my funny bone being tickled on a regular basis.
Quote:
In the early 17th century, Japan adopted strict isolation policies and severed almost all ties with foreign countries. In 1853, the US fleet commanded by Admiral Perry forced the doors open, leading to a modernization of the nation's sociopolitical systems and the eventual fall of the Shogunate. The samurai regime ended its life with the imperial restoration in 1868. That's what history tells, but in Gintama, that's not what happens. Instead of the US fleet, the country is stormed by spaceships coming from four corners of the universe and soon we see it occupied by extraterrestrials. The Shogunate has become a puppet of alien occupation armies. All samurais have been disarmed and reduced to temp workers with no skills who just try to make ends meet. Gintama is a story of a handyman named Gintoki, a samurai with no respect for rules set by the invaders, who's ready to take any job to survive. He and his gang, however, are also among the very few who have not forgotten the morale of a swordsman. Wherever they go, all they do is to create troubles. Troubles that they of course try to solve, but in reality...
Both shows are currently streaming on Crunchyroll and are well worth checking out.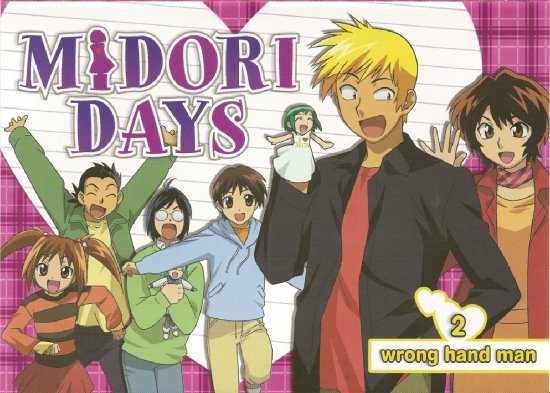 Last week saw just the one anime review, as I took a look at the second volume of Midori Days. It's another harem anime show, where a hapless teen male, unlucky in love, suddenly through bizarre circumstances finds himself the object of more than one girl's affection. But not ever harem anime has the main girlfriend become part of the boy's anatomy. Midori is now literally Seiji's right hand girl, and in
Midori Days: Volume 2
, she has to deal with other girls discovering that Seiji isn't a deadbeat delinquent loser.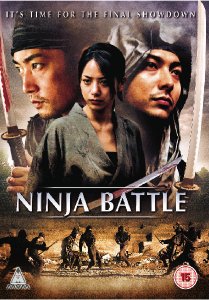 If you want to step away from anime for a minute, MVM have another Seiji Chiba ninja movie coming out, and I took a look at the live action feature,
Ninja Battle
last week. It's just the ticket if you want to watch a movie about ninjas that don't wear bright orange.
Media Blasters released Midori Days: Volume 2 back in 2005. Ninja Battle comes out on the 6th of February 2012, courtesy of MVM.
One Last Bit Of Good News
Yeah, I know. Good news has been pretty thin on the ground these past few weeks, but if this doesn't perk you up, nothing will. Anime News Network announced that Shinichiro Watanabe and Yoko Kanno will be working together on the Sakamichi no Apollon anime series due this spring. The last time that Shinichiro Watanabe and Yoko Kanno collaborated, the result was the timeless Cowboy Bebop. Sakamichi no Apollon is a period show, set in the sixties, about jazz. I can't begin to tell you how jazzed I am about this.
Quote:
It is the 1960s and the story focuses on Kaoru Nishimi, a smart but naïve young boy who has had to move around Japan a lot due to his father's job. His circumstances make him something of an outcast but at his latest school he starts to get close with class president, Mukae Ritsuko, and bad boy Sentaro Kawabuchi who tends to skip class and get into fights. What unites the three is their shared love of jazz!