Anime Review Roundup
Online Anime Bonanza
Anime on Demand has finally been catching up on their autumn announcements the past couple of weeks, following the debut, and subsequent delay of Persona 4: The Animation. The first episodes of Mirai Nikki are up, a concept sci-fi action series that looks a little like a cross between Death Note and Stein's Gate. 12 individuals are co-opted into a bizarre game. The diaries on their phones are altered to reveal the future, and the point of the game is to kill the other players, which is done by destroying their phones. The last one left standing gets to be God.
Next up, you can see the first two episodes of Maken-ki, which looks to be a cross between R-15 and Pokemon. A high school set combat tournament anime with weird magical mascots called Maken, and even weirder rules, and more importantly sufficient fan service to require ridiculous levels of censorship prior to streaming.
Announced but not yet streaming is the boys love anime Sekaiichi Hatsukoi, although you can get a preview as the first 18 episodes are up and available to UK viewers at Crunchyroll.
Nozomi Entertainment continue to provide the goods over at Youtube, even if their episodes only stay up for a couple of weeks or so. It helps to keep you regular though. New series available to UK viewers kick off with the second season of Emma: A Victorian Romance, the first episode of which is streaming right now.
You can also see the first two episodes of Revolutionary Girl Utena, a series that I have wanted to watch on a UK DVD release ever since I saw the absolutely barmy movie, released here by MVM. No DVD yet, but this is the next best thing.
Links to the right.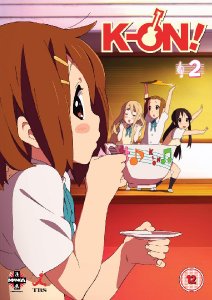 I had two hits of Kyo-Ani brilliance to review last week. First up was the next instalment of
K-ON!: Volume 2
. It's feels odd now to get anime in small doses, even though it's only been a couple of years or less since we switched away from single volumes to boxsets, but K-ON! does feel special enough to warrant a little extra expenditure in terms of money and shelf-space. Four girls decide to form a rock and roll band in high school, and K-ON! chronicles all the cute, silly and charming things that happen in the process. There isn't as much of the music biz as you might expect, but there is all the heart-warming sweetness that makes the time spent watching the show feel all fluffy.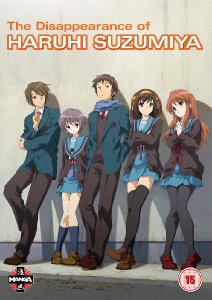 Then it was the turn of
The Disappearance of Haruhi Suzumiya
, the big screen adaptation of the fourth light novel in the franchise, moving the story onwards from the amazing and perfect first series, and the brilliantly flawed second. Yes, you will need to know about what came before if you are to understand what The Disappearance of Haruhi Suzumiya is all about, and yes, it is so worth it! Haruhi disappears, Kyon gets frantic, and two and a half hours of amazing animation fly by before you even know it. And Alvin and the Chipmunks is on the best animation Oscar long-list…
Manga Entertainment release The Disappearance of Haruhi Suzumiya on DVD today, while K-ON!: Volume 2 comes out from them on the 14th November 2011.