The Melancholy of Haruhi Suzumiya Complete Series 2 Deluxe Box Set [4 Discs]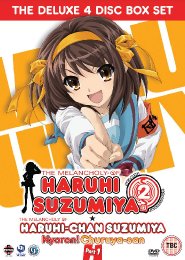 The fate of the world rests on Haruhi not being bored!
Certificate: 15
Running Time: 332 mins
Retail Price: £39.99
Release Date: 2011
Content Type: TV Series
Synopsis:
Haruhi continues her search for exciting ways to keep her world from being boring. Unfortunately, for Kyon and the rest of the SOS Brigade, they are forced to go along for the ride.

On the night of the Tanabata Star Festival, Kyon is transported back in time by Mikuru Asahina to what may be the source of what led Haruhi to search for aliens, time travelers, and espers. In the last two weeks of summer vacation, Haruhi leads the brigade on a dizzying list of summer time activities, eventually culminating in the brigade experiencing what they think is deja vu but they're actually re-living the same two weeks of summer over and over again. It's up to Kyon to figure out what's missing to get them out of their endless loop.

As fall rolls around, everyone prepares for the school arts festival, but Haruhi isn't content with their class's survey project. Instead, she hatches her own plan for the SOS Brigade to film and screen their own movie. Step behind the camera to see what went on to create the cinematic "masterpiece" that is The Adventures of Mikuru Asahina Episode 00!
Special Features:
Special Ending Season 1
Textless Credits
TV Commercial Spots
Retail Promo
Promo Spots
Location Scouting Videos
Behind the Scenes of Aya Hirano's Music Video
Endless Eight Prologue: Summer - An Audio Slideshow

The Melancholy of Haruhi-chan Suzumiya and Nyoron! Churuya-san Part 1 DVD

Related Websites:
http://asosbrigade.com/
http://www.madman.com.au/sosbrigade/

Video Tracks:
Widescreen Anamorphic 1.78:1

Audio Tracks:
Dolby Digital Mono 2.0 Japanese
Dolby Digital Stereo 2.0 English

Subtitle Tracks:
English

Directed By:
Tatsuya Ishihara

Written By:
Nagaru Tanigawa
Noizi Ito

Starring:
Tomokazu Sugita
Aya Hirano
Minori Chihara
Crispin Freeman
Wendee Lee
Michelle Ruff
Yuko Goto
Stephanie Sheh
Daisuke Ono
Johnny Yong Bosch

Music From:
Satoru Kousaki

Director of Photography:
Yoshiko Tanaka

Editor:
Naoki Kanazawa

Producer:
Richard Kekahuna
Taku Otsuka
Kaeko Sakamoto
Takashi Sakuda
Eric P. Sherman

Executive Producer:
Yoko Hatta
Ken Iyadomi
Nobuhiko Sakawa
Shouji Utagawa
Takeshi Yasuda

Distributor:
Manga Entertainment