MCM Expo News And Anime Review Roundup
The New Licences Are…
That's all that you're really looking for, aren't you? The state of the industry is interesting and all that, but what really matters most are those DVDs and Blu-rays that will be coming to shop shelves over the next few months and years. There was no Beez presence this year, but you did have Manga, MVM and Kaze present, and so were the prolific Twitterers from sites like UK Anime.net, from where I have filched the news. Going by label…
Manga Entertainment
had the lion's share of licence announcements, some of which have been hinted at or tweeted previously, some completely new.
Freedom
Strike Witches S1 and S2
King of Thorn
Phantom: Requiem For The Phantom
Beez previously released the Freedom OVA as a limited edition Blu-ray release. Manga will release it on Blu-ray and DVD. Strike Witches S1 will be out later this year, S2 in 2012, and there's more, see Kaze.
MVM
is a company that some may have thought was leaving the anime-sphere. They used the Expo to lay that lie to rest by announcing
Ikki Tousen: Dragon Destiny
It's the sequel to the ever-popular Ikki Tousen: Battle Vixens series, delivering more combat and fan service. They also stated that they have a couple more licences in the pipeline.
Kaze
are relative newcomers to the UK anime scene, although they have long been established in Europe. They were at the Expo mostly to promote their Anime on Demand online streaming venture, but they did reveal that the streaming model has already produced dividends. It turns out that the stream-away success
has also been licensed for physical media release in the UK, and Kaze's usual partner Manga Entertainment will be releasing the show. Kaze also have the physical distribution rights for the noitaminA modern classic
a.k.a Kuragehime. No distributor was announced at the Expo, but it could very well be Manga as well.
BOGOF on Streaming?
Sure enough, Anime on Demand are rewarding early adopters and subscribers with what essentially amounts to buy one get one free. If you bought the Spring Season Pass, you will automatically get the Summer one, and if you bought the annual subscription, you'll get 2012's Summer pass added on for free. There's still a chance to get in on the act, as the offer closes on the 1st June 2011, that's this Wednesday.
Click here to find out more
.
Shingu on Streaming
Nozomi Entertainment in the US occasionally stream their shows on Youtube, and around half of their online catalogue is available to UK viewers. This last week, they put up the first two episodes of
Shingu: Secret of the Stellar Wars
, one of my favourite shows. It's the English dub if you are interested, and they'll add two new episodes each week. They do have a tendency to remove the old episodes as well, so you'll have to remember to tune in regularly, like that old-fashioned bit of technology, um… television.
Children Of The Sun to Journey Again
A couple of years ago, it was a sheer delight for me to review
The Mysterious Cities of Gold
for this site. It's a classic anime from my childhood, a European Japanese collaboration that brought a fantastic adventure story to life, as three children went exploring the jungles of mediaeval South America, searching for lost treasure and mysterious civilisations. In the extras for that disc, mention was made of an attempt to continue that series where it left off (it was never completed). Now word comes that there is new Mysterious Cities of Gold in the works, three new series, 78 episodes worth.
Check ANN for more
.
Haruhi Delayed?
For those looking forward to the Disappearance of Haruhi Suzumiya feature film, you may have to hold your breath a little longer, as Haruhi won't be found now until October 3rd 2011, with many retailers showing the release date as having been pushed back. There's no change for the release date of The Melancholy of Haruhi Suzumiya Season 2 though.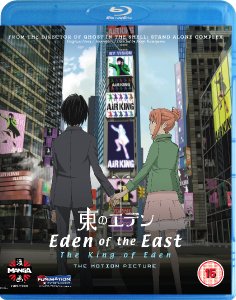 With all that going on, I had time for just one anime review last week, as I took a look at the Blu-ray release of
Eden of the East: The King of Eden
. Eden of the East was the stunning cyberpunk thriller that was released here last winter. It's the dramatic series from the creator of Ghost in the Shell Stand Alone Complex that told the story of an amnesiac naked guy with a gun and a phone outside the White House, rescued by a passing tourist, who finds that he is a participant in a fantastical high stakes game, where his wish is his phone's every command. Eden of the East was my highlight of 2010, the only annoyance being that it ended on quite a cliffhanger. The King of Eden is the first of two features that resolves that cliffhanger, and starts about answering all those questions left hanging by the series. Click on the review to see if it has been worth the wait.
Eden of the East: The King Of Eden is out courtesy of Manga Entertainment on June 6th, in both single disc Blu-ray, and 2-disc DVD form.