Anime Review Roundup
It's The New Anime Season Again
Every thirteen weeks it's the same thing, the anime production houses announce the new shows that they will be airing, or the old shows that will be continuing, and for the last couple of years, that's when fans in the West have been patiently awaiting the consequent announcements from their online anime provider of choice. Crunchyroll have already confirmed the second season of Squid Girl, and the simulcast of Hunter x Hunter, and Kimi to Boku both of which will be streamed to the UK. But UK attention over the past few months has been more tuned to what Anime on Demand will announce, our own dedicated anime streaming service. For this season, well more Nura: Rise of the Yokai Clan is a given, but the first two new shows were announced this weekend, Mirai Nikki a.k.a. Future Diary and Un-Go. Here's the press release from
Anime On Demand
.
Quote:


Anime on Demand are pleased to announce that both "Un-Go" and "Mirai Nikki" are the first two titles in our Autumn line-up, with at least three more to be announced over the next week!

Mirai Nikki sees high school 2nd year, Amano Yukiteru, is a boy who has problem making friends. He thinks of himself as a bystander and will always write down everything he sees in a cell phone diary. Tormented by solitude, Yukiteru began to imagine things like a friend called Deus Ex Machina who is apparently the Lord of Time & Space. Seeing Yukiteru's miserable state, Deus gives him a new ability. His diary will now record events that will happen in the near future. Yukiteru is then forced to participate in a game which the winner will become Deus' successor.

START DATE: We will be streaming this starting from Sunday October 9th and it'll run across Autumn and Winter seasons.

Un-Go Private detectives have been out of fashion for many years, but that's how Shinjurou Yuuki identifies himself. With his superior deductive powers, Shinjurou solves various challenging cases. Meanwhile, Inga, an attractive young lad, serves as Shinjurou's "buddy". But contrary to his cute appearance, he's a sharp, arrogant rogue. Why Inga sticks with Shinjurou is not immediately appparent.

The setting of the story is a post-war Tokyo of the future, one that still bears the scars of war. Ruling the land is Media King Rinroku Kaishou, who has the communications infrastructure under his thumb, giving him great power over both politics and industry. Kaishou is renowned for his use of logic and the massive amount of information at his fingertips to solve a great number of mysteries. But unbeknownst to the public at large, most of those discoveries have been the work of Shinjurou Yuuki, "the Last Great Detective." (The public, in fact, regards Shinjurou as a loser, and gives him the nickname, "Defeated Detective".) Still, Shinjurou, together with Inga, can't help but search for the truth.
Anime on Demand is linked to at the right of the page.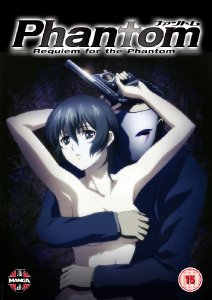 My first anime review of the week was
Phantom: Requiem For The Phantom - Part 1
. It's an unwieldy title for a show that is a little out of the ordinary, especially in the current climate of anime production for the masses. But, rather than catering for the hordes, Phantom offers something with a mature, more adult outlook, a deep and complex story, with character based writing and a refusal to pander for cutesy and commonplace. Shows like this were a penny a dozen once upon a time, but you hardly see them now, but like its predecessors, Noir and Madlax, Phantom is about the touchy subject of assassins. Here, the titular duo of Phantom are brainwashed into performing the dirty work of a criminal organisation bent on underworld domination. Their identities and pasts erased, Ein and Zwei have to defeat determined enemies, stay one step ahead of infighting in their own organisation, and somehow discover the truth about who they were. It's a tall order. See if it's worth the effort by reading my review.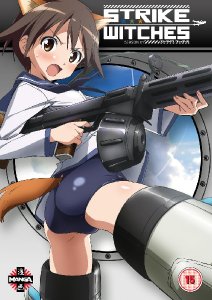 If Phantom is the atypical modern anime series, my next review was of the archetype of modern anime, that designed specifically to appeal to those who put the most money into anime production houses, the discerning Japanese fan who not only buys the DVDs and Blu-rays, but all the associated merchandising as well. Strike Witches, or 'stereotypical young girls with magic powers wearing just their underwear, with cute animal tails and ears, on cybernetic magic brooms, fighting aliens in an alternate World War II' is the show. And there's added platonic girl on girl crushes, bathroom antics, booby grabs, and an episode where panties go missing. It's just the sort of thing that I loudly proclaim that I am sick and tired of in the industry. And it's just the sort of thing that proves me to be an absolute hypocrite. I've got a soft spot for
Strike Witches: The Complete Series
and you can see why by clicking the link.
Manga Entertainment release Phantom: Requiem For The Phantom - Part 1 today, while Strike Witches: The Complete Series comes out next week, the 10th of October.