MCM Expo News and Anime Review Roundup
Is it just me, or are all these expos starting to blur together into one morass of cosplay, free hugs, yaoi paddles, and licence announcements? It makes it all the more confusing when companies use their panel time to confirm announcements made at previous conventions, as well as make new ones. Anyway, I'm glad that I didn't have to sort through any of that, and instead did what I usually did and just sifted through Twitter feeds and anime forums to find tiny tidbits of news. As usual, this year's MCM Expo was at the Excel Centre, and Kaze, Manga and MVM were in attendance. Anime UK News, UK Anime Network and Anime News Network were quickest on the news buttons.
Manga Entertainment
Manga started their announcements a day early, as they recorded their podcast on the Saturday live from the Expo. And new licenses are...
Blood-C
and
The Last Dark
, both series and theatrical feature.
Hellsing Ultimate
Parts 5-8 will get Blu-ray and DVD releases (Parts 1-4 will get Blu-ray upgrades).
They have a Spanish animated movie called
Wrinkles
.
Manga have also licensed
Cat Planet Cuties
and the most recent Mamoru Hosoda movie,
Wolf Children
, the latter of which will get the Blu-ray treatment.
Trading Card series
Redakai
will be released next year.
Series and movies confirmed for release (announced all over again) include
King of Thorn, Aria The Scarlet Ammo, Jormungand
, and
Guilty Crown.
They are looking at Blu-ray for Guilty Crown, and a steelbook release for Blood-C. They also intend to re-release
Panty & Stocking
on Blu-ray.
In terms of delays,
Fractale
was delayed so that Manga could co-author it with Siren Entertainment, while the
Full Metal Alchemist: Conqueror of Shamballa
has been delayed yet again into 2013.
General news indicates satisfaction at how
Blue Exorcist
has performed, and that they are looking at further subtitled releases, such as
Kara no Kyokai, Bakemonogatari
, and
Nisemonogatari
. They are also interested in the
Unlimited Blade Works
movie, and expect that more
Fairy Tail
will be released here in due course. Just to reiterate, these last are hopes and intentions, not announcements at this time.
Kaze Entertainment
As always, Kaze will release their shows through Manga Entertainment.
There was one new licence announced by Kaze, the awkwardly named for search engines anime,
K
. You can watch it now on Anime on Demand to see what it's like.
Otherwise, the announcements all had a ring of familiarity about them, with
Code Geass Blu-Ray, Un-go, Tiger & Bunny, Mirai Nikki, Mawaru Penguindrum
, and
Nura, Rise of the Yokai Clan
all having been announced in some form before.
The fourth
Bleach
movie is incoming, as is season 10 of the TV series next spring.
Depending on where you click, Tiger & Bunny Volume 1 of 4 will be out on January 14th, or in February.
Journey to Agartha
, the stupid rename of Children Who Chase Lost Voices From Deep Below will be out on January 28th in normal and special editions, DVD and Blu-ray.
Bakuman
may be a DVD only release as it's subtitle only.
And Kaze are interested in licensing
Magi
, another show that you can see right now on Anime on Demand.
MVM
MVM once again saved up all their announcements for the Expo, so it looks as if they have the lion's share of the new stuff...
New titles include
Needless
in two parts next January and February.
CANAAN
in March 2013.
Ga-Rei Zero
in April
Majikoi: Samurai Girls
next year (This isn't the Samurai Girls released by Kaze in January).
Confirmations included
Shana
Season 2 next April,
Dream Eater Merry
in March,
Bodacious Space Pirates, Mayo Chiki
and
Kids on the Slope
In general news,
Broken Blade
performed well on Blu-ray, but not quite well enough to justify diving into Blu-ray just yet for other titles. They won't rule out future Blu-Ray releases, but get Blu-Ray rights for all new titles and may do more co-authoring with Australia where possible.
MVM are also interested in the licence for the recent
Fate/Zero
series as released by Aniplex.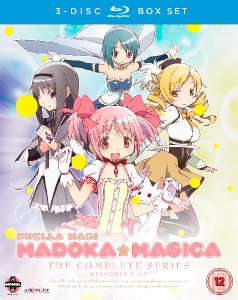 And after all that, we have reviews too. And what a review to start with!
Puella Magi Madoka Magica
is the one title that anime fans have been waiting for eagerly for much of this year, ever since Manga first announced it. You don't need to be spoiled, so I won't tell much more than the tagline, in that this show does for the Magical Girl genre, what Evangelion did for giant robots, it's that important a landmark series. I got to take a look at the Blu-ray discs, and found a show that almost lives up to the hype. When you remember just how much hype this show has been built up with, that 'almost' isn't worth quibbling about. Click on the review to read more waffling, as I try desperately not to spoil the series.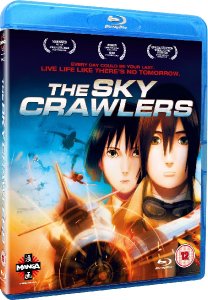 I don't have to be as circumspect about my second review of the week,
The Sky Crawlers
. This time I got to take a look at the Blu-ray, which offers a universe of improvement over the DVD-R I reviewed originally. It will probably offer a galaxy of improvement over the retail DVD release too. Mamoru Oshii's exploration of metaphysics and the soul through the medium of fighter pilots is truly at home in the 1080p resolution offered by the Blu-ray. It's still the dense musings on the nature of consciousness and philosophy, but it looks absolutely gorgeous, and at least the characters don't quote egregiously at each other as they did in Ghost in the Shell Innocence.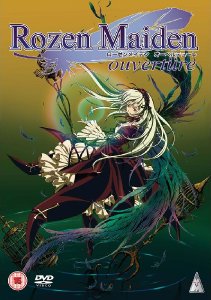 Finally, I round things up with the release of
Rozen Maiden Ouverture
. Rozen Maiden (and its sequel Rozen Maiden Traumend) was the tale of magically animated dolls that battle each other to claim the title of Alice, and win the right to meet their creator, the mysterious 'Father'. Two of the dolls in the show, Shinku and Suigintou had a particularly fraught and fractious relationship. The Ouverture OVA episodes tell the story of their first meeting, a hundred years prior to the events in the series.
Manga Entertainment release Puella Magi Madoka Magica on Blu-ray and DVD today, while their Sky Crawlers Blu-ray was released back in 2010. MVM will release Rozen Maiden: Ouverture next Monday 5th November.