Midweek Anime News Blitz (Updated)
The Manga Deluge Begins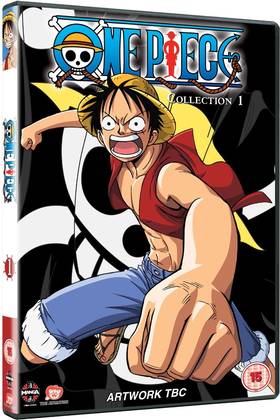 The big news from Manga Entertainment first... Yesterday, an eagle-eyed netizen spotted a rather appealing product listing on Amazon. The last time this sort of thing happened with Dragon Ball Z, there was a lot of red faced denial and poor handling.
This time however, after a brief pause, and a quickly convened
Manga podcast
, the announcement was made official, and it made loud and unequivocally.
The United Kingdom is getting
One Piece
. The epic shonen action series featuring everyone's favourite rubber-limbed pirate is coming to the UK. It's coming this year. The first four DVD collections, 103 episodes worth are being released from May, and the plan is to release 4 such collections each year going forward.
UK fans wanted it, and boy did they make sure Manga Entertainment knew it, and they've filled their end of the bargain. It's now up to fandom to keep their end, and buy the show.
Part 1 comes on May 27th on 4 DVDs, with an S.R.P. of £34.99, and will be available early at the MCM Comicon, with subsequent volumes paced two months apart. And you can place your pre-orders now, at
ShopManga
and
Amazon
.
The Manga Deluge Continues
To think, the week began with the
announcement that Manga Entertainment
will be releasing
Deadman Wonderland
on DVD and Blu-ray in July. This blood and guts sci-fi show set in a privately run penitentiary of the future is pure Manga Entertainment. It has their name written all over it.
At the time of writing, the US has released the show on DVD only, and no other English speaking territory has a Blu-ray in the works. This is a UK exclusive.
The Manga Floodwaters Inundate
Quite frankly, a
podcast
about One Piece alone would have satisfied many an anime fan, but Manga Entertainment used the time to deliver their Q2 release schedule as well... which follows hence.
April 1
Full Metal Alchemist Movie 1 & 2
Blu-ray
Full Metal Alchemist: The Conqueror of Shamballa
Blu-ray
Persona 4 Part 2
(Kazé)
April 8
Nura Rise of the Yokai Clan
DVD (Kazé)
Okami-san and her Seven Companions
DVD
April 15th
Fractale
DVD
Loups=Garous
DVD and Blu-ray/DVD combo
22nd April
King of Thorn
DVD and Blu-ray/DVD combo
Tiger & Bunny Part 2
(Kazé)
29th April
Fullmetal Alchemist Brotherhood Volume 3
Blu-ray
6th May
Cat Planet Cuties
DVD
Mawaru Penguindrum
DVD (Kazé)
13th May
Black Rock Shooter
DVD
Bleach Complete Series 10
DVD
Dragonball Z Collection 7
DVD
Streetfighter II The Movie
Blu-ray (Kazé)
20th May
Hellsing Ultimate 5-8
Blu-ray DVD
K-On!! Season 2 Part 1
DVD
27th May
Halo: Forward Unto Dawn
- Anchor Bay Blu-ray DVD and Limited Edition
Bakuman Season 1
DVD (Kazé) subtitle only
Fullmetal Alchemist Brotherhood Volume 4
Blu-ray
High School of the Dead - Drifters of the Dead Edition
, DVD Blu-ray
Most of those titles have been previously announced and now get firm dates. But note that K-On!! Season 2 is a new licence announcement, previously only just teased, and now made firm, with the intention of getting the series out before the film that follows its story in summer.
Also note that the Drifters of the Dead Edition of High School of the Dead now contains the OVA episode on a separate DVD disc in both versions. There is at this time no way to buy this disc separately except if you attend the MCM Comicon in London on the weekend just prior, where Manga will be selling it from their booth.
And Then MVM Comes And Breaks The Dam
Just when you thought that the news couldn't get any better, MVM come and make my day. My favourite anime show of last year was
Kids on the Slope
, which reunited director Shinichi Watanabe and composer Yoko Kanno (Cowboy Bebop), in a period show about school kids loving jazz music in the sixties. When MVM announced its licence last year, I was over the moon. Today they only just went and
added the Blu-ray release
as well.
Place your pre-orders
. You know it makes sense. (You can find One Piece there as well for pre-order).
Update:
And
MVM go and add
that a couple of titles move up a month earlier on the schedule. You can now get
Vampire Princess
Miyu
on the 15th of April, while
Mayo Chiki
will now be available on the 13th of May.