Anime Review Roundup
The Pre-MCM Comicon Buzz
Everyone is now filling up Twitter, tantalising and teasing with what they will have to announce at the forthcoming exposition this weekend. Anime Limited say that they will have several licenses to announce, and they also are hosting the creator of Cowboy Bebop and Kids on the Slope, Shinichiro Watanabe. MVM have tweeted today that they will have five new licenses to announce at the expo. And Manga Entertainment let slip on their podcast that Blue Exorcist, originally released here on sub only DVD, will be getting a Blu-ray upgrade with the new dub, as a complete series collection.
Their podcast
also announced a few delays and changes.
Fullmetal Alchemist Brotherhood's full Blu-ray collection was previously altered to a two part release, with a collector's slipcover for both parts, down to licensor requirements. The first part has been pushed back a tad to the 24th of June.
The same thing has happened to Naruto Shippuden: Collection 13, down to a disc regioning error on the first batch of discs. This will be corrected for the retail release, which is now happening also on the 24th of June.
Bakuman: Season 1 has been pushed back to the 17th of June, due to delays at Kazé's end in France.
Finally, Fairy Tail's season 1 was supposed to be released as an 8-disc collection, but because of the same reason that affected Fullmetal Alchemist Brotherhood's Blu-ray, it will now be released in two parts, with part 1 on July 22nd, and part 2 a couple of months later.
Daisuki Is Alive!
The world has another anime streaming service! We in the UK have had Anime on Demand for a while now, and companies like Viz and Funimation have also created their own channels to provide anime to US audiences. Of course the biggest fish in the pond is the global reaching Crunchyroll, but it seems that the sleeping giant has finally awakened to the possibilities of online streaming. Japanese anime companies are coming together to stream anime to the world. Part of it is down to having direct control of their content, another is realising that the way to end piracy is to deny pirates their reason for existing. The goals of the new Daisuki service are laudable, with the majority of content up there for free and in HD supported by ads, with some fee based premium content, a portal to sell associated merchandise, and a direct avenue of feedback for fans internationally to interact with creators.
Of course with it being early days, there will be teething troubles, and I have to say that the site's player needs more than a few kinks ironed out, while the site design isn't very intuitive. Also, from the off, it seems the pirates haven't completely lost their raison d'être, as of the six launch titles, one is geo-locked from the UK, and it seems that other regions have different titles locked from them.
To find out more, visit Daisuki
, and if you sign up, you can enter into a prize draw as well.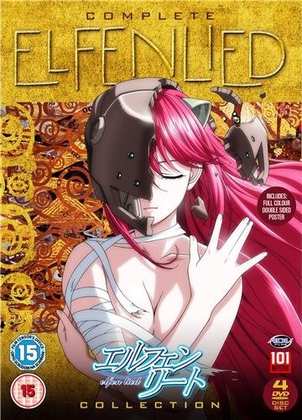 This week's anime reviews comprise a boobs and horror sandwich. Although come to think of it,
Elfen Lied: The Complete Collection
isn't shy about nudity itself. This vintage title got a re-release at the start of this year, and I found the series in an online bargain bin. It's a show about cute little telekinetic girls that escape from a test facility, and slaughter all in their paths. For anime fans that cottoned onto the medium in the nineties with uber-violence, mega-sweary dubs, and random nudity, faced with the 21st century drift to cute and moe, Elfen Lied harkened back to the good old days, blending aspects of the two to create its own genre, uber-violent moe, which had a whole lot of controversy to it. Click on the review to see if that controversy still holds up today.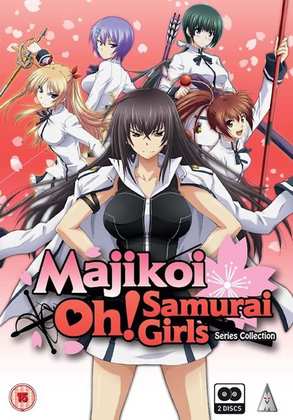 Next up it was the turn of
Majikoi Oh! Samurai Girls Collection
, which supplies copious boobies to alleviate from the horror. It's a fighting girls anime that saves the fighting for the second half of the show, spending the first half fully-locked in harem comedy mode. Rather than a hapless teen male though, this show's protagonist is self-possessed and worldly enough to know just which girl he's in love with. The one problem is that she rejects him. Somehow this only serves to make him all the more attractive to every other girl around him. A goodly amount of harem hijinks ensue, until the lesbian cyborg shows up...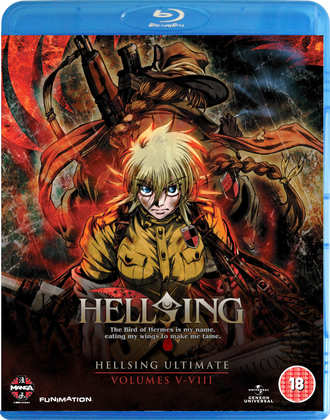 Such complex narrative and incisive social insight isn't for our final review of the week. This is about Nazi vampires wreaking havoc through London! After an achingly long hiatus, Hellsing Ultimate is back. The next four episodes of this cult hit series make their UK debut, and this time it's out on Blu-ray high definition. The first four episodes will see their HD release later this year, but this has been a long awaited return for the vampire Alucard and his associates, and
Hellsing Ultimate: Episodes 5-8
do not disappoint. In fact, I'll defy any Hellsing fan not to be sitting in front of the TV grinning like an idiot as they watch this show.
101 Films re-released Elfen Lied back at the start of the year, while Majikoi Oh! Samurai Girls Collection comes out on DVD from MVM today. Hellsing Ultimate: Parts 5-8 Collection comes out on Blu-ray and DVD today, courtesy of Manga Entertainment.