MCM Expo News and Anime Review Roundup
The Expo News…
Another expo has been and gone, and I was so bloated from Diwali sweets that I couldn't be asked to shift from my seat in front of the inaugural Indian Grand Prix to attend the Industry Panel… That's my excuse and I'm sticking to it.
Thankfully there are websites and devoted fans out there doing the legwork, and I'll point you in the direction of
UK Anime Network
for a detailed summary of proceedings. I guess what will be of most interest though are new licenses, and there were a few worth mentioning…
Manga Entertainment
New licenses include
Shiki
Strike Witches Series II
Tales of Vesperia
Tekken: Blood Vengeance
Gantz: Perfect Answer
The next Shippuden and Bleach movies should be released on Blu-ray, although Bleach: Fade to Black has been delayed until May 2012.
Kazé Entertainment
Kazé releases in the UK are usually on the Manga label, but they had their own industry representative, and their own announcements to make, including these new licenses…
Trigun: Badlands Rumble
Mardock Scramble: The First Compression
Princess Jellyfish
In terms of news, they have one delay to report, Samurai Girls will now be released in January so that the DVD and Blu-rays can come out simultaneously. Anime on Demand titles Mirai Nikki, Un-Go and Persona 4: The Animation are titles for which Kazé have the physical media distribution rights in the UK, although that isn't exactly the same as a guaranteed release. They also hope to have something to announce about Children Who Chase Lost Voices From Deep Below, Makoto Shinkai's latest work.
MVM Entertainment
New licenses from MVM are actually old licenses, one of which was previously announced, and now gets a confirmed release date, and two titles that have long since lapsed and vanished from UK shelves, and will now be brought back for a new generation of anime fans.
Welcome to the NHK (9th January 2012)
Kiddy Grade
Fruits Basket
Both Kiddy Grade and Fruits Basket will see complete series releases in February and March of next year. They also noted that they are looking into licensing Ikki Tousen's third season, once it receives an English language dub.
And Manga Entertainment didn't announce a license for Dragon Ball Z, despite submitting some of the extras to the BBFC back in summer, and despite the online MCM Expo catalogue leaking a full page ad announcing a 6 disc, 39 episode collection due for release on 26th December 2011, before being pulled by Manga Entertainment. There is no Dragon Ball Z. Nothing to see here, move along.
Although Manga did mention that there were some licenses that they weren't at liberty to discuss at the Expo.
Three anime reviews to share with you from last week, and from three different distributors, an event that is rare enough for me to actually blink in surprise. First up was
Ikki Tousen: Dragon Destiny
. High school girls beating the clothes of each other, with plenty of boobs, butts, and camel toes, courtesy of lecherous camera angles, all accompanied by humorous raunchy OVA episodes, one of which was too raunchy for the BBFC (so they banned it), isn't exactly what I got into anime for. Well it is kind of what I got into anime for, because I was fourteen at the time, but it's not what I look for now. But by God does it shift DVDs! Click on the review, look at the screen caps, and if you find yourself laughing like Sid James, place an order.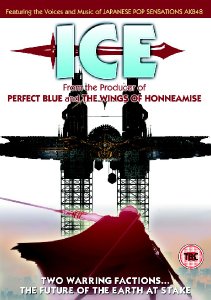 That may not have been exactly the kind of sex and uber-violence that tickled my anime taste buds way back when, but
ICE
is exactly the kind of sex and uber-violence that got me hooked on anime in the first place. Back when Manga Entertainment was Manga Video, and I was watching stuff like Genocyber, Angel Cop and Devilman to feed the primitive reptilian part of my brain, there was a universal perception of anime, which to this day is still unfairly applied to the medium. A few minutes into ICE after seeing a character's head explode, I got a warm feeling, and it wasn't brains dripping off my shirt, it was nostalgia. ICE is a post-apocalyptic anime, a story where man is extinct, woman has inherited the world, and the few survivors of a doomed species are fighting in a genetically warped future for the technology that may save humanity from oblivion.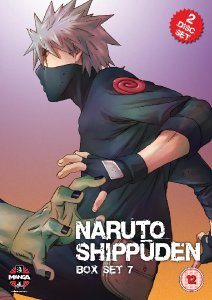 Finally for the week, I got a look at the latest instalment of the Naruto saga, in
Naruto Shippuden: Box Set 7
. Naruto isn't in it all that much. This stretch of episodes is focussed more on his ninja buddy Shikamaru, as he has to come to terms with a personal tragedy, and deal with the desire for revenge that results. Surprisingly, this story is some of the best Naruto yet. But fans of the loud orange ninja needn't fret. He isn't forgotten in this collection, and he makes quite an impact when he does show up again.
MVM release Ikki Tousen: Dragon Destiny, Cine du Monde release ICE, and Manga Entertainment release Naruto Shippuden Box Set 7, and it all happens on the 7th November 2011.