MCM Expo News and Anime Review Roundup
Yet Another Anime Expo Has Been And Gone…
And once again I have been parked in my chair, allowing others to do all the legwork and gather the information, allowing for a glorified cut and paste masquerading as a news report. You'll have to thank
Anime UK News
and
UK Anime.Net
for all the juicy tidbits that I am about to filch. Manga, MVM and Beez were there, and all had goodies to bring, news to relay, and of the new licenses we have to look forward to, the majority came from Manga Entertainment, currently the biggest player in the UK market. Three of their titles made me go squee in a way unfitting for a gentleman of my advancing years…
Manga Entertainment
The Melancholy of Haruhi Suzumiya Season 2
The Melancholy of Haruhi-chan web shorts (unclear as to whether Nyoron Churuya-san has been licensed as well)
The Disappearance of Haruhi Suzumiya feature film.
The television series and shorts will be released next spring 2011, possibly in one collection. The film will get a DVD and Blu-ray release next summer.
Manga also have the slice of life show K-On! and the Funimation licence Birdy The Mighty: Decode. Further Funimation licences are in the works, but aren't quite ready to be announced as yet.
Beez Entertainment
You might have expected Beez to inherit the Haruhi collection, but instead they have gone after a couple of noitaminA titles, actually turning out to be the first to announce their DVD release in the West. noitaminA is an animation block on Fuji Television that has a mandate to expand anime's appeal beyond the normal fan demographic, so expect noitaminA titles to be different from the usual anime fare. The two titles we have to look forwards to are…
House of Five Leaves
The Tatami Galaxy
And both are currently licensed and streamed by Funimation in the US.
MVM
MVM had one licence to announce, and that was The Tower of Druaga, an entertaining RPG parody that was streamed through Crunchyroll a year or so ago. The Tower of Druaga was an anime of two halves, The Aegis of Uruk, and The Sword of Uruk, and MVM have both halves.
Other expo news included the announcement that Professor Layton simply flew off the shelves for Manga Entertainment, that MVM have extended the licence for older series like Trigun and Samurai Champloo, that while Gundam Unicorn episode 2 will be available on the PSN in the UK the same time as everywhere else, the Blu-ray and DVD release from Beez is up in the air. Also news is that Beez's main UK representative, Andrew Partridge is moving on to pastures new, and that from today he'll be taking up a similar role with Viz's French subsidiary Kazé. Kazé are looking to expand into the UK, supplying discs for distribution through Manga Entertainment, as well as exploring online distribution. Professor Layton was their first release, and coming up in a couple of weeks will be the first volume of Vampire Knight, both on the Manga Label.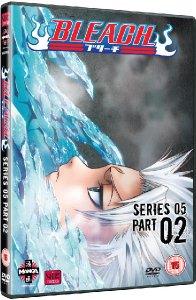 Last week I reviewed
Star Trek
, the rebooted movie that told the tale of how that iconic crew first came together, with an all new cast filling those familiar roles. Yeah, I know it's not anime, but I wanted to inject a little positivity into proceedings before I knock my mood back down again with the one genuine anime release that I did review last week.
Bleach Series 5 Part 2
was the title, bringing us to the end of the Bount filler, and it's been a steady tumble downhill for my interest in this show. I think with this collection of episodes it hits the nadir of tedium and irrelevance. God I hope it does. If Bleach can actually get worse than this…
Manga Entertainment let Bleach Series 5 Part 2 escape into the wilderness today. I hope it doesn't find a mate and have little babies of tedium!