Anime Review Roundup
New Anime Coming to the UK Soon and Sooner
Another week, another batch of reviews, and some more news to share.
Manga Entertainment have been Twittering again. This time, to celebrate the acquisition of 9000 twats, or whatever the character limited cyberstalkers are termed, they've announced a new licence. Next year will see the UK DVD and Blu-ray release of the 13-episode
Angel Beats
series. With October's MCM expo just around the corner, you can expect a whole lot more in the way of juicy announcements.
Crunchyroll continued with the licence announcements this week, and putting last season's comparative UK drought behind them, all except one so far are going to be streamed in the UK. Since last week's announcements of Squid Girl Season 2, Kimi to Boku, and Hunter x Hunter, they have further announced,
Chihayafuru, Fate/Zero, Working'!! a.k.a. Wagnaria (Season 2), and Sekai-ichi Hatsukoi 2
. The one title that won't be streamed to the UK is Majikoi Oh! Samurai Girls. It's not a problem as Manga Entertainment are releasing Samurai Girls on DVD in November. It's a completely different Samurai Girls, but if you have an annoying gap between Samurai Champloo and Samurai Seven on your DVD shelf, you'll have something with which to fill it at last.
But when it comes to UK specific streaming, you have to look at Anime on Demand, and following last week's announcements of Mirai Nikki and Un-Go, they've really come up trumps with their latest acquisition. They will be streaming Persona 4 every week on Fridays. Indeed, episode 1 is up already for all to enjoy. PR release ensues.
Quote:
Anime on Demand is pleased to announce that we will be simulcasting the anime adaptation of the bestselling role-playing game Persona 4 The Animation. From AIC A.S.T.A. (Bamboo Blade), and renowned director Seiji Kishi (Angel Beats!, Kamisama Dolls), comes a story of a group of students, their ability to harness the powers of supernatural Shadows, and the grisly murders that connect their two worlds together. The voice cast from the original game have reprised their roles for the series.

Starting soon then from every Friday evening onwards, the series will stream every week on Anime on Demand. Further release details to be announced very shortly.

ABOUT THE SERIES

When Yu Narukami's family moves to the rural country town of Inaba, he's expecting a lot more peace and quiet than he's been used to in the big city. Instead, the peace has been shattered as a rash of mysterious murders and kidnappings sweep the countryside. With the police stymied, Yu finds himself joining with a group of eight other teenagers in a desperate bid to solve the mystery. A mystery that is somehow connected to both the local weather patterns and a strange video game world which Yu, his friends and the enigmatic killer can all enter. Journey beyond the Velvet Room as the hit PlayStation 2™ game becomes a spectacular anime in Persona 4 The Animation!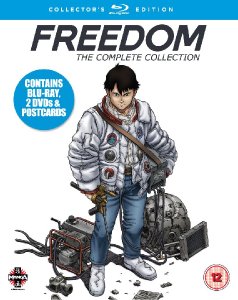 Three reviews for you this week, with dashed expectations, a poor but acceptable substitute, and a pleasant surprise to top the week off. You wait for something knowing that it will be good, indeed a prior global and UK release has confirmed its excellence, and despite it being an anniversary product to sell a snack food, Katsuhiro Otomo's (Akira) involvement, Studio Sunrise's production, and a supremely high budget make it something you've always wanted to see. That's how I felt about the
Freedom OVA
, a space sci-fi seven-episode epic set in the future. It's a story where a catastrophe has devastated the Earth, and the survivors of humanity now live structured and orderly lives in the lunar Utopia of Eden. Then one rebellious teen takes his defiance of authority too far when he learns that the authorities have lied to him, have lied to them all. Freedom is a classic sci-fi series in the true sense of the word, a really appealing story with astounding execution. Then I took a look at Manga Entertainment's Blu-ray release, which compresses the original 4-disc release onto just one disc.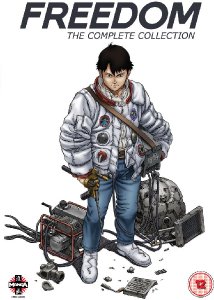 To counter that disappointment, I then reviewed the DVD release of the
Freedom OVA
instead, which offers all the same material, on 2 DVD discs. It's still the same great show quite obviously, but it lacks the technical flubs that I noticed on the Blu-ray. To counter that elation though, it also has a pesky NTSC-PAL transfer, which after the last year of native PAL conversions of anime, feels like taking a step back into the dark ages. It's certainly a more agreeable viewing experience than the Blu-ray though.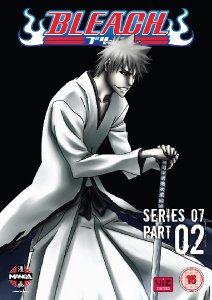 I have to say that at the end of this week, I was profoundly grateful for the UK release of
Bleach: Season 7 Part 2
. Now that's a sentence that I never thought I would type. But a nice PAL transfer, and an absence of technical issues that have you scratching your head for four hours trying to figure out if your home cinema is at fault, is practically heavenly. What makes that elation transcendental is that I find this is the point where Bleach (up until now a fairly generic shonen action show, with a lot of people running around waving unfeasibly large swords at each other, all the while spouting incomprehensible jargon) finally lives up to and exceeds that wonderful promise shown by Season 1 all those many years ago. This is the best Bleach so far, and if it continues on in this vein, it may make that travesty of a Bount arc feel like a long forgotten nightmare.
It's all Manga Entertainment, with the Freedom OVA coming out today, in both dual-play BD & DVD Special Edition format with collector's art cards, and a vanilla DVD only release. Bleach, Season 7: Part 2 comes out next week, on the 17th of October 2011.