Anime Review Roundup
Manga Release Date and Licence Overload
Last week Manga Entertainment went on a Twitter frenzy, announcing new licences and release dates like there was no tomorrow, add to that some eager eyed forumites searching out retail listings, and there is more Manga Entertainment goodness than you can shake a stick at. Take note of these names and dates, and hopefully this will keep you all satisfied for a while…
The big licence announcement last week was Kenichi, The Mightiest Disciple, a martial arts comedy where a hapless wimpy teen male gets taken in hand by a butt kicking beauty, and her dojo of butch martial arts experts. Part 1 will be out 8/8/2011
The other titles dated and in some cases priced include…
4/07/2011
The Melancholy of Haruhi Suzumiya (2nd Season) + The Melancholy of Haruhi-chan
Musashi: The Dream of the Last Samurai
11/07/2011
Naruto Shippuden Volume 6 (RRP: £24.99)
Birdy The Mighty Decode Part 1
18/07/2011
(Blu-ray) Xam'd: Lost Memories Part 1
Xam'd: Lost Memories Part 1
(Blu-Ray) Casshern Sins Part 2 (RRP: £39.99)
Casshern Sins Part 2 (RRP: £24.99)
25/07/2011
(Blu-Ray) The Disappearance of Haruhi Suzumiya
The Disappearance of Haruhi Suzumiya
(Blu-Ray) Yu-Gi-Oh! 3D - Bonds Beyond Time
Yu-Gi-Oh! 3D - Bonds Beyond Time
01/08/2011
Shikabane Hime: Corpse Princess Part 2 of 2 (RRP: £24.99)
2001 Nights (Fumihiko Sori's TO)
15/08/2011
Black Butler
Sekirei The Complete Series
25/08/11
Vampire Knight Guilty Vol 4
29/08/11
High School Of The Dead
Rideback The Complete Series Collection
05/09/11
Gantz
Gantz Blu-ray
Nabari No Ou Complete Series 1 Part 2
Naruto Shippuden Box Set 7
XAM'D Lost Memories Collection 2
12/09/11
Birdy The Mighty: Decode 2
Fullmetal Alchemist Brotherhood Five
Redline
19/09/11
Sacred Blacksmith Season 1
26/09/11
Bleach Series 7 Part 1
Note that Redline and Rideback appear to have been shifted back a couple of months from their original release dates, Xam'd is now getting a Blu-ray release as well as a DVD release, and more new, unheralded licenses include the Gantz live action movie, and the Sekirei series, (if you liked Master of Martial Hearts…).
This news has been sourced from all over the web, but mainly Twitter, Anime on Line, and UK Anime News.
Tokyopop Closes For Business In The US
Manga news of another sort, with the news that the manga publisher Tokyopop is closing its US operations in May, and ceasing publication. For a good decade and more, Tokyopop was synonymous with manga, releasing some of the best loved titles, such as Fruits Basket to an ever increasing manga fan base. Even today, if I go into my local library, over half the manga titles on their shelves will have the Tokyopop logo on the spines. Unfortunately, the past few years worth of recession haven't been kind, with Tokyopop losing some of their choicest licences, while the high street collapse of book retailers helped even less. As the
Mania website reports
, that amounts to the already whittled down US operations closing up completely.
The European operations are unaffected by this, but that doesn't necessarily mean that English language publications will continue. If you want your Tokyopop manga, better get them while you still can, and don't expect any series on hiatus to be completed.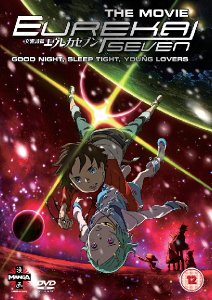 I just can't seem to get away from mecha. At least, it was yet another mecha title that passed my beady reviewing gaze last week. Daunted by the prospect of watching 50 episodes of giant robot action, I've managed to avoid the Eureka Seven series completely. You'd think that a feature film that retells that story in a brief and accessible two hours would be preferable, and so it was that I took a look at
Eureka Seven: The Movie
. It's a tale of young love, torn apart by adversity, in a world waging war against an alien menace. But when the young mecha pilot Renton Thurston is reunited with his childhood alien friend Eureka, it may change the world forever.
Manga Entertainment release Eureka Seven: The Movie, on both DVD and Blu-ray today.