Anime Review Roundup
Blu-Metal Alchemist
Last week it was Manga Entertainment who hogged the news spotlight, starting their streams of Full Metal Alchemist: Brotherhood, after Funimation had geo-locked us out of their playpen. Well, Manga aren't all that keen to relinquish that spotlight just yet, as they have been
Twittering
again last week. This time it is to tell us that when Full Metal Alchemist: Brotherhood comes to DVD later this summer, it will very likely be accompanied by a Blu-ray release as well.
The word 'Wow!' springs to mind. This isn't the first Blu-ray anime release by any measure. It isn't even the first Blu-ray anime series. Indeed both Manga and Beez have dabbled in the past, releasing Freedom, Shigurui: Death Frenzy, and Devil May Cry on Blu-ray. But Full Metal Alchemist is a wholly different mainstream beast. If this happens, this will be the first ongoing Blu-ray series release from a UK anime distributor, indicating that the market for Blu-ray anime has come of age.
Funimation

does

stream to the UK, it does, it does, it does, so there!
First I raved about the Funimation Video Portal, then I whinged when it was blocked from UK viewing. It's still blocked, an unpleasant state of affairs. But I usually neglect to mention that Funimation does have a
Youtube
presence, and that some shows are watchable in the UK. It's a veritable thorny minefield of trial and error. Some shows are blocked, some aren't, and I just don't have the time or the inclination to go through them one by one to determine which is which. Thankfully someone at
UK Anime.net
does have the time and inclination, and has produced a useful list of shows that we can watch. Worth noting are Funimation's recent licence announcements Baka & Test, and the controversial Dance in the Vampire Bund, as well as some shows like Bacanno!, El Cazador de la Bruja, Bamboo Blade, and Shikabane Hime, which are yet to receive UK releases, or indeed US releases. Here is the list.
009-1
Ah! My Goddess: Flights of Fancy
Air Gear
Baccano!
Baka and Test: Summon the Beasts
Baldr Force EXE
Bamboo Blade
Big Windup!
Birdy the Mighty: Decode
Black Blood Brothers
Blue Gender
Coyote Ragtime Show
D. Gray Man
Dance in the Vampire Bund
Darker Than BLACK
Devil May Cry
El Cazador de la Bruja
Galaxy Railways
Ghost Hunt
Gunslinger Girl: Il Teatrino
Heroic Age
Jing: King of Bandits in Seventh Heaven
Jinki: Extend
Jyu-Oh-Sei
Le Chevalier D'Eon
Moon Phase
Murder Princess
Nabari no Ou
Negima!? Magister Negi Magi
Ouran High School Host Club
Pani Poni Dash!
Peach Girl
Rumbling Hearts
Sasami: Magical Girls Club
Save Me! Lollipop
School Rumble
Sekirei
Shattered Angels
Shikabane Hime
Shuffle!
Suzuka
XxxHOLiC
The Anime All-nighter Is Back
It's become a regular feature of the Sci-fi London film festival, and this spring is no exception.
Anime UK News
is reporting that this year will see Redline, Musashi, Bleach The Movie: The Diamond Dust Rebellion, and Fate/Stay Night: Unlimited Blade Works (subject to change).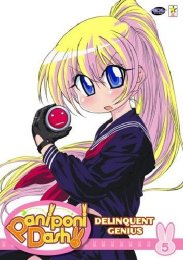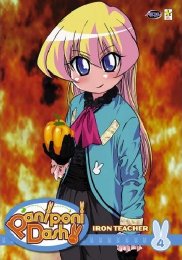 Three anime reviews last week, but before you get excited, two of them were Paniponi Dash, as I continue my sojourn in the world of the wacky, surreal comedy. Odd characters, bizarre occurrences, and completely random humour typifies this quirky series from the creators of Negima!? and Moon Phase. It's also turned into something of a challenge for me. Will I be able to stick with the weird hijinks till the end of the series, or will I have to throw in the towel and cower in the back of a rabbit hutch? If I make it through two doses of the stuff, surely I'll be able to stick it through to the final volume… I hope… Click on the reviews of
Paniponi Dash: Volume 4
, and
Paniponi Dash: Volume 5
to see how I fare.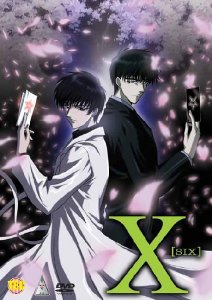 For those of you who are looking for something new, up to date and current, here's the review for
X: Volume 6
. No wait… it is current, it may be almost ten years old, but it's making its debut here in the UK after far too long, and this final volume is one that I have hotly anticipated, as the first five volumes gradually wove a narrative web around me, an intricate story with compelling characters that just got under my skin and lodged in my mind. I've been worrying whether just one volume is enough to do that slow and intricate world building and character development justice. I needn't have worried.
Paniponi Dash Volumes 4 & 5 was released by ADV in the US back in 2007, and it is available in Region 2 flavour as well should you wish it. MVM will release X: Volume 6 on the 5th of April.