Anime Review Roundup
Release Dates, Rumours, and Delays
With the New Year comes a host of new information courtesy of the nation's e-tailers, with dates appearing for previously confirmed licences, some unfortunate slippages, and some unexpected titles that will lead to much speculation. Although given Manga's position in the UK market, maybe not that much speculation…
Those of you looking forward to Hetalia Axis Powers: Complete Series 2 will have to wait a while longer. Authoring issues means that the title has been delayed by a couple of months to 11th April, as confirmed by Manga on Twitter.
Manga have also twitted further about Fairy Tail, confirming that it will have an English dub, and you can expect the first instalment near Christmas. This has led to a lot of speculation in the US, as fans debate which company has licensed it there.
Release dates have appeared in e-tailers for previously announced Manga licences, with Master of Martial Hearts due on April 4th, the Eureka Seven movie finally appearing on April 18th, Casshern Sins: Part 1 on May 9th, Shikabane Hime: Part 1 on May 23rd, Evangelion 2.22 on May 30th, and the first Eden of the East movie on June 6th.
Ongoing Manga series also have some tentative dates, with Bleach Series 6: Part 1 on April 11th, and Fullmetal Alchemist Brotherhood Part 4 on April 25th. It's worth noting that to date, Manga has kept a 2 month gap with Funimation when it comes to FMA, and Funimation has recently delayed its release of Fullmetal Alchemist to April. I wouldn't be surprised if the UK release gets pushed back a mite to compensate. Also, just as Vampire Knight comes to a conclusion at the end of February, listings for the start of the second season appear, with Vampire Knight Guilty: Volume 1 set to arrive on April 4th.
The surprises come in the shape of two series that no UK distributor has yet announced. But sites like Play and HMV have Gunslinger Girl Il Teatrino scheduled for the 16th of May 2011, with HMV intimating a 3-disc set that includes the OVA. The original Gunslinger Girl series, a sort of Leon crossed with Nikita crossed with Ghost in the Shell story that blew me away when I first saw it, was released initially in the UK by MVM, and then by Revelation when the rights shifted. The sequel went back to the manga for inspiration, and was met with somewhat mixed reviews. It has the problem of living up to the amazing first series for one…
The second surprise is that the Rideback series has been listed for the 6th of June 2011. It's a Madhouse Studios production set in an authoritarian future, where a failed ballet dancer gets involved in a curious college club where they build motorbikes that transform into robots… No seriously, it looks better than it sounds. You can check it for yourself as it is being streamed legally, and to the UK on
Youtube
So the speculation begins as to just who is going to release these shows in the UK… They are both Funimation titles in the US, with Gunslinger Girl Il Teatrino onto its budget release by Funimation. On the other hand, they are only as far as streaming when it comes to Rideback, the US DVD release is due in spring 2011. Given Funimation's current relationship with Manga, that's not a lot of speculating required. The surprise would be if someone else has them. And given Manga's recent statement regarding delays to its flagship titles Naruto and Bleach having to wait on Madman for the NTSC-PAL conversions, it would make sense that they would find something to plug the release schedules.
Update: And the speculation ends. Even as I type, Manga tweet that both Rideback and Gunslinger Girl Il Teatrino are shows that they have licensed from Funimation.
News filched from Play, HMV, UK Anime.net, and Anime UK News.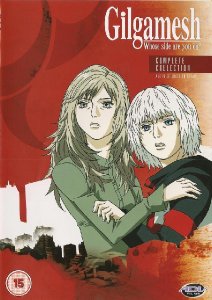 Two BIG reviews this week. That's big as in I had to watch a whole load of episodes in the process of writing them. It's a dirty job… Speaking of dirty, you can't get more grimy, rundown, and nihilistic than the post-apocalyptic sci-fi series
Gilgamesh: The Complete Collection
, which I finally got around to rewatching this winter. The world's worst ever terrorist incident occurs, sometime in the future, when a science experiment in an ancient Babylonian tomb is hideously subverted. The modern, hi-tech society falls, wars and famine ensue, and the few survivors are cast back into a pre-silicon chip era. But while technology may have backslid, people with amazing abilities are beginning to appear, children born with telekinetic and telepathic gifts. Factions appear, and a battle for the fate of the world ensues, with the Gilgamesh group wanting to finish what their patron, Enkidu started when he triggered the Twin X event, while the Orga group battle to stop them. Gilgamesh is a show that didn't appeal to me when I first saw it, its rather unique designs, its downbeat outlook, and its strikingly adult themes seemed incongruous with its medium. But it's a show that gets under the skin, and click on the review to read more.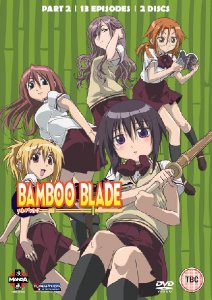 Then it was the turn of
Bamboo Blade: Part 2
. It's been a quick turnaround for this slice-of-life, sports comedy show, with Manga releasing it in its entirety over winter. It's also one of the more appealing of their shows, and a pleasant surprise for me. Cute characters abound, a charming wit, and a delightful warmth in its character observations. It's the tale of the most unexpected kendo team that forms when a hard-up kendo teacher makes a bet for free food. From such inauspicious beginnings come friendships and teamwork, as the club that develops around kendo genius Tamaki Kawazoe shows surprising promise. Tournaments and national success beckons, but as this half of the series shows, real life has a tendency to get in the way of all that. Click on the review to see why this is a series you really shouldn't miss out on.
Gilgamesh is an ADV title, a company that has long since vanished. But its back catalogue certainly hasn't, and its titles are permanently in the clearance section of many e-tailers. I picked up Gilgamesh: The Complete Collection for £15 last year and considered it a bargain. This week I saw it for under £10 in one e-tailer. Bamboo Blade: Part 2 comes out, courtesy of Manga Entertainment today.