Anime Review Roundup
Anime on Demand's New Shows Starts Streaming
It's a rollover! Or rather a deficit of news (including an annoying false alarm about Dragonball Z), and not too many reviews, convinced me to skip a week of my usual Review Roundups. Anime On Demand still aren't all that hot when it comes to keeping a timely schedule, but this past week they did begin streaming another of their new shows for the season, and to make up for the delays, they put four episodes up in one go. It's the moe, magical girl show Twin Angel: Twinkle Paradise.
I watched one episode and was reminded strongly of the advice of all kindly grey-haired mothers in the world. If you haven't got something nice to say…
Instead, I'll point you in the direction of Nichijou Episode 20, available to stream on the same site, and which I watched a couple of days ago. It has the best slow burn of a comedy character I have seen in years. We're talking tears of laughter…
Incidentally, last night Anime on Demand launched a catch-up for their new series A Dark Rabbit Has Seven Lives, putting the first eight episodes online. I haven't seen it yet to comment though. They should also be starting their other summer acquisition, R-15 in the next few days. The link to Anime on Demand is on the right, see?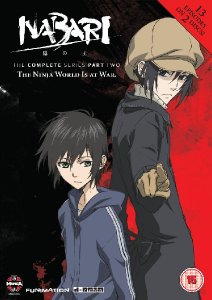 So two weeks ago, I reviewed
Nabari no Ou: Part 2
, which brought the story to a conclusion. It's the modern day ninja war story, that follows a secret conflict taking place behind the scenes of modern day Japan, as the descendants of five ninja clans do battle to possess the ultimate ninja skill of Shinrabansho, embodied in a young boy named Miharu. You'd expect a lot of intrigue and excitement with a plot line like that, but it wound up heading into Starsky and Hutch territory, with Miharu invested in saving the life of a kindred spirit, a former enemy turned unlikely best friend named Yoite. There's a whole lot of intrigue and plot twists in the conclusion of Nabari no Ou, but its slow paced melancholy didn't immediately appeal to me, and there were also a whole lot of missed chances. Read more in my review.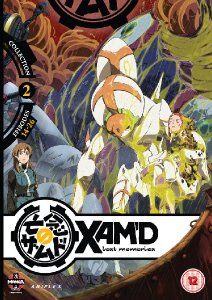 Missed chances also litter the landscape of
Xam'd: Lost Memories Part 2
, not least of which is the lack of a Blu-ray release to match the part 1 collection. It's a Studio Bones production, which means top quality animation and high production values. It also delivered a hell of a set up in part 1, creating an elaborate fantasy world, and placing all the pieces of a compelling story onto the jigsaw. But Part 2 is where it's supposed to put all those pieces together, and instead it all begins to fall apart. Read why by clicking on the review.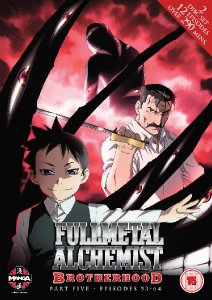 Another Studio Bones series, another failed Blu-ray release, it doesn't bode well for my final review, but on the other hand we are talking about
Fullmetal Alchemist Brotherhood: Part 5
. This epic story concludes in this final volume, a stupendous creation of fantasy and magical science that culminates a rich and complex story, that follows two brothers on their quest to restore their bodies. They attempted to resurrect their deceased mother, broke one of alchemy's most sacred laws, and paid the ultimate price. Their quest leads them into a conspiracy that stretches back thousands of years, involving the most fantastic of creatures, and one that threatens the whole world. If Xam'd and Nabari missed chances with their endings, Fullmetal Alchemist Brotherhood hits the bull's-eye dead on, and it does so with an atomic bomb of a conclusion, just to make sure.
As usual for anime in the UK these days, it's all Manga Entertainment, and they release Nabari no Ou: Part 2, and Xam'd Lost Memories: Part 2 on the 5th of September. Fullmetal Alchemist: Brotherhood: Part 5 comes out a week later on the 12th.