Anime Review Roundup
Manga Unleash Another Podcast
And I thought it was going to be another dry week in terms of anime news! Manga Entertainment have released their latest podcast, in which the breeze is shot, answers are questioned, celebrations are anniversaried, and news is piled upon the backs of the hapless listener. You'll have to visit the podcast to hear all the rest of the interesting stuff, and the bit about Tom Cruise, but news items to note...
The third
Naruto Shippuden Movie: The Will of Fire
has been licensed, and will be released in August on DVD and Blu-ray.
Jerome was pointedly schtum about
Fate/Zero
and
Sword Art Online
, but then reminded us that the MCM Comicon is next month, where Manga usually announces... stuff.
Does it matter if it's called
Horizon in the Middle of Nowhere
, or Horizon on the Middle of Nowhere? Obviously it does if you wind up having to reauthor the whole thing because of the name.
Note... if you are converting video from NTSC to PAL, with the change in runtime that results, remember to convert the subtitles from NTSC to PAL as well. This is why
Cat Planet Cuties
has been delayed again and is now coming out on July 8th.
Manga Entertainment are negotiating for
Hellsing Ultimate
Parts 9 and 10, which ought to round the series off. They key word here is negotiating, so keep that blood on ice for now.
Bad news people. Manga Entertainment were set to release
Fullmetal Alchemist Brotherhood
as a complete series Blu-ray collection with the final single volume of the Blu-ray. Then Aniplex reminded them that nowhere on the planet, most importantly not even in Japan has there been a complete Blu-ray boxset. Manga are now releasing the Brotherhood Blu-ray boxsets in two halves, one in June and one in October, containing half the series each. The June box will come with an artbox that will eventually hold both halves.
Tell a lie, Australia's Madman Entertainment did release a very, very limited complete Blu-ray collection.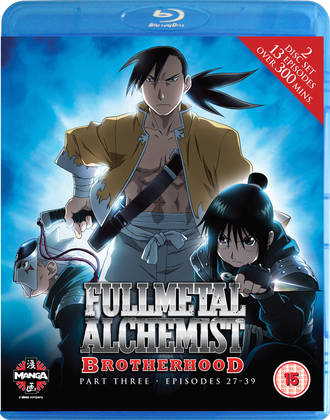 Speaking about Brotherhood, my first review of the week was
Fullmetal Alchemist Brotherhood: Volume 3
on Blu-ray. Two years ago it was that Manga Entertainment cancelled the Blu-rays citing poor sales. At the time I was stuck in the SD age, perhaps a symptom of its initial problems. Well since then, I've gone all HD, and so have several other anime fans. More importantly, the costs associated with making Blu-rays have started to come down, Manga Entertainment can now pick up where they left off, and finish releasing Fullmetal Alchemist Brotherhood on Blu-ray. This was my first time in seeing the show in HD, and click on the review to see if it's worth the upgrade.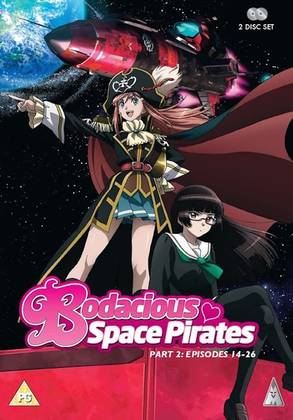 Then it was the turn of
Bodacious Space Pirates: Part 2
. Sometimes I hate anime schedules. Part 1 came out in February, and MVM had time to release Shana Season 2 in its entirety in the interim, before BSP: 2 comes out. Of course such ire is only raised when it's a show that I adore as much as this one. I don't think I would have been half as peeved if it had been the other way around. The operative word for Bodacious Space Pirates is fun. I haven't had as much fun with a series in a good few years, and I've seen this show twice in quick succession thanks to its run on Crunchyroll. In fact this is the ideal way to try before you buy. Or you could read my review and choose to buy. Or you could just take my word for it and buy.
Manga Entertainment resume their Fullmetal Alchemist Brotherhood HD odyssey today with Part 3, while MVM will release Bodacious Space Pirates: Part 2 next week on the 6th of May.