Anime Review Roundup
Xam'd Lost Memories Part 2 Blu-ray Cancelled By Manga
The third time was definitely not the charm with this hi-def anime, indeed it looks as if it is another nail in the coffin of long running anime series on Blu-ray in the UK, at least for now. Last week saw a flurry of tweets from Manga Entertainment, announcing the cancellation of Xam'd Lost Memories Part 2 on Blu-ray, followed by an explanation of just why, citing dismal sales.
First it was Full Metal Alchemist Brotherhood, cancelled after two volumes, then it was Casshern Sins, killed halfway, and now the same fate has befallen Xam'd. Some fans have been quick to point the finger at Manga, announcing that they had refused to invest in Part 1 until Part 2 was confirmed, citing prior precedent for their caution. There is an element of truth in that, in that Manga made a rod for their back by setting such an uncertain sales strategy. Also it ought to be said that Casshern Sins, and Xam'd Lost Memories, may be great visual exponents of the anime art, fan favourites they are not.
It's Manga's sales figures that seal the fate of Xam'd however; as they tweeted that they had only sold 100 copies of the Blu-ray in the first three weeks after release. 100 copies where they need to sell thousands. I doubt very much that the number of purchasers waiting to see if part 2 would be released would have tipped the balance in this case.
It was blindingly obvious that this was the last roll of the dice for multi-part Blu-ray anime series in the UK, that Manga simply cannot match the numbers, or more significantly the pricing margins of the US (The typical RRP difference between DVD and Blu in the UK is £10 for a 2-disc set, in the US it is $5). Sure enough, Manga Entertainment also tweeted that until the UK demographics change when it comes to hi-def capable anime fandom, they will only release single shot anime on Blu-ray, whether they are movies, OVAs or short series, like the forthcoming High School of the Dead.
Xam'd Lost Memories Part 2 will be released on DVD as scheduled on 5th September 2011.
Emma: A Victorian Romance Streamed On Youtube By Nozomi
Sandwiched by bad news we do have something of a bright spot for anime fans. Nozomi Entertainment in the US have started streaming
Emma: A Victorian Romance
, and we in the UK can partake of its genteel delights. It's one of those niche anime shows, which despite a small but vocal fanbase, rarely make it to these isles anymore. Now you can see what all the fuss is about, and if enthused, import as well. Nozomi are currently streaming episode 1 in its subtitled form on Youtube. They tend to take down old episodes as they put up new ones, so it's best if you are regular with your viewing habits.
Beez' UK Stock Destroyed In Sony DADC Fire
I think we're all aware now of the horrendous riots that took place last week, claiming five lives, wrecking property and neighbourhoods, damaging England's reputation, and revealing a social underclass and endemic problems, that many wish would just go away. That doesn't seem likely at this juncture.
Against the loss of life, the loss of property seems hardly worth mentioning, but one of those horrendous images last Monday was from a warehouse in Enfield, going up in smoke. Opportunistic rioters saw the Sony logo and thought they would load up on Playstations. It was in fact the Sony DADC distribution warehouse, with less in the way of kit, and more in the way of CDs, DVDs and Blu-rays. It wasn't just the big studios either, many of the UK's independent labels use Sony DADC to replicate their discs, and they also used the storage facilities to hold their stock before they got it to the retailers. These are companies like Third Window Films, Cine Asia, Network DVD, BFI, Eureka, Artificial Eye, Arrow Films, Metrodome, Palisades Tartan, Revolver, Terracotta, and yes, Beez Entertainment.
All of Beez' UK stock was lost in the fire, but they are comparatively fortunate in that their replicator is based in France, and they are only looking at a delay to their release plans, and the inevitable decisions about which back catalogue titles will be worth restocking up on.
For some of the smaller companies, the situation is pretty grim. They had their cashflow tied up in the stock, and with the loss of that stock, even with insurance, it makes their medium to long-term future precarious. Can they afford to restock their back catalogues? Can they afford to wait that long, as the bigger companies looking to kick off their Q4 sales campaigns will be ahead of them in the queue to get their discs replicated. Can they afford the interruptions to their business?
And what can you do to help your favourite niche distributors? After all, the world would be a bleak place indeed if all we had was the big Hollywood studios. Fortunately this
Facebook page
has collected a whole lot of information about what labels have been affected, and what you can do to help.
Buy discs. They may not be at the warehouse, but there are still copies at retailers, and getting cash into the distro's hands keeps them ticking over until they can get new stock pressed. Also, selling out titles at stores like Amazon gets back to Sony DADC, nudging the company up the replication ladder.
Watch online. This is the 21st Century after all. A lot of these companies have their product available to rent online. For instance Third Window Films and Terracotta Distribution have much of their catalogue at MUBI, linked via that Facebook page, and for £2.99, you can watch a piece of Asian cinema via your PC or Playstation, again keeping that cash flowing.
Also, Third Window Films in particular is bringing the award winning The Villain to UK cinemas now. You can show your love by placing your behind in a cinema seat, and watch a hell of a movie as well.
Once again, go to
that Facebook Page
, which has collected all the resources, and find out how you can make Independent Cinema and Music rise like a phoenix from the ashes.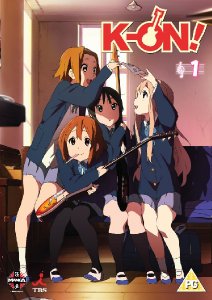 Last week was a perfect storm of anime excellence. It would have been something of a respite from the mean and nasty world outside, except for the fact that I usually write these reviews ahead of time, and last week I was actually watching Nabari no Ou. But my first review for the week was
K-ON! Volume 1
. K-ON! is a long anticipated, fan favourite show, with four cute girls coming together in high school to form a rock band. And it is really all about the cute in this story, an adorable slice-of-life bit of sugary sweetness, designed simply to make fans glow in its mere presence. It's Ready-Brek for the soul.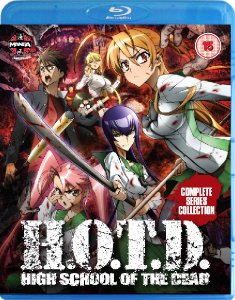 Then it was the turn of
High School of the Dead: Complete Series
on Blu-ray. I don't like horror, and I hate zombies. In case you missed the title, High School of the Dead is a zombie horror series. High School of the Dead is also my favourite anime release of the year, proving that there is an exception to every rule. This Madhouse anime is the best action series since Black Lagoon, introducing a cast of appealing characters, and setting them up against the end of the world zombie menace that has plagued many a cheap horror movie. But it also drips more with fan service than it does brain bits, and that's saying something. T & A abound in this comedy action horror, and it's all the better for it. If you want to see the slow motion torment of a pair of teenaged breasts by the recoil of an AK47, this is the anime for you, and it's even better in high definition.
Manga Entertainment unleashes both shows on the 29th of August 2011. High School of the Dead is also released on DVD on that day, while Manga have pencilled in a Blu-ray complete series collection for K-ON! next March; until then it's single volume DVDs.