Kino's Journey: Volume 1 - Idle Adventurer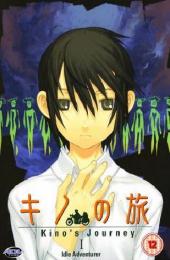 The beautiful world
Certificate: 12
Running Time: 100 mins
Retail Price: £19.99
Release Date: 2004
Content Type: TV Series
Synopsis:
For centuries, those in search of self-discovery and knowledge of the world have hit the road in furtherance of those quests. Young Kino, along with the talking motorcycle Hermes, has the same goal - to travel and observe and learn from different cultures. Staying exactly three days in each location, Kino and Hermes learn much about the world and themselves...

Episodes comprise:
1. Land Of Visible Pain
2. A Tale Of Feeding Off Others
3. Land Of Prophecies
4. Land Of Adults

Kino's Journey features the impeccable combination of director Ryutaro Nakamura (Serial Experiments Lain) and screenwriter Sadayuki Murai (Perfect Blue, Cowboy Bebop, Boogiepop Phantom).
Special Features:
Clean opening and closing animations
Production sketches
ADV previews

Video Tracks:
Widescreen Anamorphic 1.78:1

Audio Tracks:
Dolby Digital 5.1 English
Dolby Digital Stereo 2.0 Japanese

Subtitle Tracks:
English

Directed By:
Ryutaro Nakamura

Written By:
Sadayuki Murai
Keiichi Sigsawa

Starring:
Ai Maeda
Ryuji Aigase
Kelli Cousins
Cynthia Martinez
Luci Christian
John Gremillion
Vic Mignogna

Music From:
Ryo Sakai

Director of Photography:
Naoyuki Ohba

Editor:
Takeshi Imai

Producer:
Nobuhiro Osawa
Kyle Jones

Executive Producer:
John Ledford
Mark Williams

Distributor:
ADV Films