Nurse Witch Komugi (2 Discs)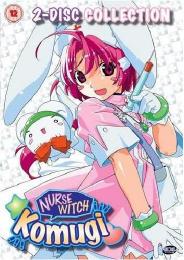 Only cosplay can save the day!
Certificate: 12
Running Time: 151 mins
Retail Price: £14.99
Release Date: 2007
Content Type: TV Series
Synopsis:
Komugi is a cosplay idol. She's not really much of one, but she does her best. But peril lurks here on Earth. If something isn't done pretty soon, Angrar will infect the whole world with viruses, using Komugi's best friend, Koyori, as a virus purveyor.

The Goddess of the Vaccine World, Maya, has sent help to rid the world of this plague. Her helper, Mugimaru, has asked Komugi to be the defender of Earth and help him irradicate all the viruses that Angrar plagues the world with. Komugi, now empowered with magical Nurse Witch skills, has her work cut out for her.

Between doing her cosplay jobs, fighting disease... and dealing with all the... wierdness, it's not going to be easy. Let's hope Komugi wins the fight to make Earth a safer place to live!
Special Features:
Clean Credits
Production Sketches
Character Introductions
Japanese TV Spots
'How To Anime' Documentary
Commentary with Director and Cast

Video Tracks:
4:3 regular

Audio Tracks:
Dolby Digital 5.1 Surround English
Dolby Digital 2.0 Stereo Japanese

Subtitle Tracks:
English

Directed By:
Yasuhiro Takemoto

Written By:
Armstrong Takizawa
Tsuyoshi Tamai
Tatsuo Yoshida

Casting By:
Halko Momoi
Ikue Ohtani
Yuji Ueda
Ai Shimizu
Akiko Hiramatsu
Atsuko Enomoto
Ikue Ohtani
Masaya Onosaka
Jocelyne Loewen
Kira Vincent-Davis
Luci Christian
Brad Swaile
Jessica Boone
Lisa Ann Beley
Monica Rial
Shelley Calene-Black
Trevor Devall

Music From:
Ryuji Takagi

Director of Photography:
Masahiko Matsuyama
Ryuuta Nakagami

Editor:
Masaki Sakamoto

Producer:
Hideaki Hatta
Kohei Kawase
Shoichi Yoshida
Takaya Ibira

Executive Producer:
John Ledford
Mark Williams

Distributor:
ADV Films