Anime Expo Roundup With Added Reviews
It was Anime Expo again this weekend, and being the lazy reprobate that I am, I sat on my rear-end and let others do all the legwork, so that I could filch their headlines and present them to you, used and slightly soiled. So be good chaps and pay a visit to
Eyeonanime
and the
AnimeonDVD
forums to pass along my gratitude. Anyway, all the major distributors were there, and all had announcements to make.
Manga Entertainment
It turns out that they have just licensed from Funimation, rather than become official UK distributors, and they confirmed once again all the titles that they have mentioned previously.
Claymore
will start being released in January in single volumes.
They also have all of
Naruto
, and will be releasing furiously until next summer, when they will start releasing the follow up series
Naruto Shippuden
, so prepare for a deluge of filler.
New series licensed include
Ichigo 100%, Blue Dragon, Honey & Clover
, and
Afro Samurai Resurrection
.
Ghost In The Shell 2: Innocence
will get a Bluray release, while the rejigged first movie,
Ghost In The Shell 2.0
, will get Bluray, DVD and theatrical exposure.
Manga titles will start appearing on iTunes and Xbox Live.
Manga have the live action
Chanbara Beauty Movie
.
MVM
MVM confirmed their previous announcements of
Solty Rei, Desert Punk
, and
Romeo X Juliet
.
They also confirmed last week's leak of
Slayers
. They have acquired the rights to all four series, including the new
Slayers Revolutions
. The first three series will be released at four single disc volumes per series.
New licences announced include
Samurai Deeper Kyo
, and
Blade of the Immortal
, as well as the live action
Cutey Honey movie
.
ADV
They are continuing to repackage their existing catalogue into boxsets, and you should expect
Get Backers, Area 88, Angelic Layer, Abenobashi, Mahoromatic
and
DNAngel
next year.
The status of ADV US's new acquisitions such as
Clannad
with regards to the UK distribution rights is unclear.
Discussions about the hiatused Sojitz titles such as
Ah My Goddess S2, Welcome to the NHK
and
Kurau Phantom Memory
continue, but there are no concrete developments at this time.
Beez
Their new licences are probably the worst kept secret around, but you can expect
Gundam 00
and
Gurren Lagann
from them next year. They will also be looking at boxsets for
Gundam Wing
(with new transfers), as well as bringing some of their back catalogue titles to Bluray.
Revelation
If you hadn't figured it out already, the pause for breath this autumn was down to being credit crunched.
But they did confirm that all the titles on hiatus will be completed, and they have boxsets in line for
Peach Girl
and
Beck
, in addition to those already announced.
Remember while you read these announcements, that none of this is my own work, except the effort I put into shamelessly nicking and rewriting someone else's.
Non Expo News
There was a little, but hardly enough to warrant a headline. Just that if you were looking forward to MVM's new series,
Daphne In The Brilliant Blue
, it's been delayed by two weeks until November 24th.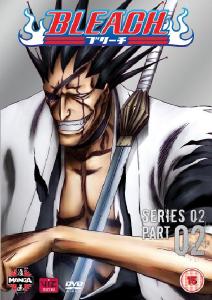 It all began last Tuesday with the fourth instalment of Bleach. It's another of Manga's acquisitions from Viz, just like Naruto, and it's following the same format of half season boxsets. Bleach's seasons are a little shorter though, so the second part of season 2 comes on just two discs. It's a supernatural shonen action show, which sees our hero Ichigo becoming a Shinigami and defending the world from vicious Hollows. Except that his mentor Rukia wasn't supposed to help him, so she wound up back in the Soul Society (the next world), where she awaits punishment. Now it's Ichigo's turn to cross over and rescue her. The review of
Bleach 2:2
awaits…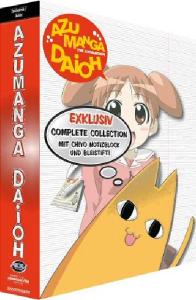 On Thursday I went all back catalogue to review the slice of life brilliance that is
Azumanga Daioh
, the complete series. It's pure golden age nostalgia that follows six girls through three years of high school. There's no angst, no heart breaking romance, no aliens, and no giant robots, just gentle character observation, wonderful humour, and an absurd take on school life. I fell in love with the series to the point where just thinking about it makes me smile. Read my review for more unalloyed gushing.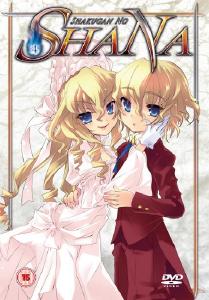 It was all wrapped up on Sunday with the fourth volume of
Shana
. More supernatural action with the world being defended against soul-devouring spirits from the other side, but there's a cuteness factor here that Bleach just doesn't compare with. There's an ickiness factor as well in this volume, as a pair of toe-curling twins get their just desserts, before Wayne and Garth show up, make wibbly wobbly noises and send us into a flashback sequence.
Bleach 2:2 is unleashed by the kind folks at Manga Entertainment on November 3rd, while you will have to wait until the 10th for MVM's fourth instalment of Shana. Azumanga Daioh is available at all self-respecting DVD emporia. Any that don't stock it don't deserve to call themselves retailers quite frankly. More anime next week!