One Man. One Family. One Royal Mess.
One of the UK's best loved stars Sir David Jason returns to the small screen as The Royal Bodyguard on DVD from November 12th.
In his first BBC comedy since Only Fools and Horses, Sir David plays walking disaster Captain Guy Hubble who unwittingly finds himself in charge of safeguarding The Queen.
Woefully out of his depth but determined to fulfil his duty, mayhem ensues in this charming comedy from writing, directing and producing team Mark Bussell and Justin Sbresni.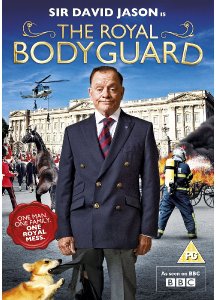 The series – produced by Hat Trick Productions in association with Busy Productions - also stars Geoffrey Whitehead (Not Going Out), Timothy Bentinck (The Archers), Tim Downie (The King's Speech) with a special guest appearance from comedy legend David Walliams (Little Britain).
Sir David Jason's role as Hubble is yet another landmark in a remarkable career that stretches over seven decades. Following his first on screen appearance in 1966 at the age of 26, Sir David has been an ever present feature of British TV. His much loved appearances in Open All Hours, Frost and Only Fools and Horses were honoured with a hugely popular Knighthood in 2005.
The Royal Bodyguard follows Hubble who, after a life of service in the army, finds himself put out to seed as a car park attendant at Buckingham Palace, until he is surprisingly promoted to head of Royal security after first endangering, then miraculously saving, The Queen's life.
Hubble's boss, Colonel Whittington (Whitehead), is not amused. He is desperate to see the back of Hubble; he knows only too well about his long line of botched operations and relentless mishaps.
Hubble soon manages to upset foreign ambassadors, members of the public and his colleagues as he haphazardly carries out his duties. Most alarmingly, Hubble often finds himself taking on dangerous one man rescue missions for The Queen and her family.
Captain Guy Hubble is a walking disaster, and the fate of the Royal Family now rests in his hands. Available to buy from November 12. Watch a series of clips below:- 
DVD details
Certificate: PG
Feature Running Time: 2hrs 55mins approx.
Bonus Running Time: 16mins approx.
DVD RRP: £19.99
Special Features: Making The Royal Bodyguard