The Fishing Party - BBC Play For Today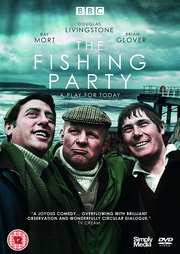 Certificate: 12
Running Time: 110 minutes
Retail Price:
Release Date: 01/10/2018
Content Type: TV Series
Synopsis:
First shown in BBC One's renowned Play for Today series in 1972, Peter Terson s sparkling comedy of class and manners stars Brian Glover, Ray Morto and Douglas Livingstone.

Derbyshire miners Art (Glover), Ern (Mort) and Abe (Livingstone) head north to Whitby for a boys-only escape and a spot of sea fishing.

Checking into a shabby B&B run by haughty landlady Audrey (Jane Freeman) and her henpecked hubby, the trio are bamboozled into paying a high price for their rooms.

They board their chartered boat piloted by a taciturn ex-fisherman, who stares grimly ahead while offering stern warnings about mixing chips and brown ale on a swelling sea. But the boys are half-cut before they've left the harbour, and as they reach the cod grounds they're decidedly off-colour.

With his unshakable poise, fervour for self-improvement and back-of-the-sauce-bottle learning, Art is the well-meaning group leader who anchors the action as they head for deep water.
Special Features:


Directed By:
Michael Simpson

Written By:
Peter Terson

Starring:
Brian Glover
Ray Mort
Douglas Livingstone |

Soundtrack By:
Sidney Sager

Director of Photography:
Michael Williams

Editor:
Oliver White

Production Designer:
Charles Carroll

Producer:
David Rose

Distributor:
Simply Media