Marriage Lines - The Complete Series 1 & 3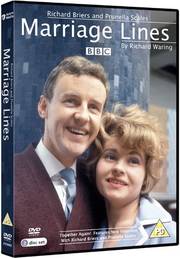 Certificate: U
Running Time: 422 Mins
Retail Price: £25.99
Release Date: 04/02/2013
Content Type: TV Series
Synopsis:
Marking 50 years since it was first broadcast, this DVD collection brings together the complete series one and complete series three of the groundbreaking marital comedy Marriage Lines. This hit series, written by Richard Waring (Rings on Their Fingers), is also notable for the sparkling comedic brilliance of its rising young stars, Richard Briers and Prunella Scales.

Newly-married George and Kate Starling arrive home from their honeymoon to discover that they've lost their door keys. How they come to meet their new neighbours and events that follow, sets the tone for a series that lovingly explores the perils and pitfalls of love, marriage, anniversaries, petty quarrels and the kind of making-up that's not so hard to do.

With series two missing in action, we return in series three to a heavily pregnant Kate, together with George in their new flat, facing up to the realities of becoming parents – something which Kate takes to with grace and assurance, while George… will keep stubbing his toe on the crib in more ways than one.

Fifty years on, it seems like only yesterday as Richard Briers and Prunella Scales find themselves living the result of those Marriage Lines.
Special Features:
Richard Briers

Video Tracks:
1.33:3 Black

Audio Tracks:
Mono 2.0

Written By:
Richard Waring

Starring:
Richard Briers
Prunella Scales

Distributor:
Acorn Media UK