Daphne du Maurier's Jamaica Inn comes to DVD this May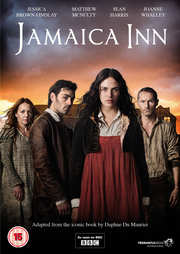 More TV drama news, becoming a bit of a theme this week!
FremantleMedia International
have announced the release of
Jamaica Inn
for 26th May on DVD.
Adapted by Emma Frost from the Daphne du Maurier book of the same name, this three hour long feature is directed by Phillippa Lowthorpe and stars Jessica Brown Findlay, Matthew McNulty, Sean Harris, Joanne Whalley, Ben Daniels and Shirley Henderson.
Arriving with a recommended retail price of £17.99, extras will include a making of featurette.
Synopsis and trailer follow...
Jamaica Inn follows the journey of young, headstrong Mary Yellan who is forced to live with her aunt following the death of her mother. When Mary arrives at the desolate Jamaica Inn, she discovers her aunt to be a shell of her former carefree self and is now a tired and anxious woman who is firmly under the spell of her domineering husband, Joss.
Joss is the head of a gang of men who smuggle all along the stretch of the Cornish coastline. It's dangerous and violent work and when Joss isn't smuggling, he is drinking heavily to forget all that he has seen.
To complicate matters further Mary finds herself drawn to the enigmatic Jem Merlyn, but Jem is her uncle's brother and therefore not to be trusted in Mary's mind - although her heart may say otherwise.
Life at Jamaica Inn challenges Mary's black and white perceptions of morality as she finds herself living among smugglers in a lawless land where no one is quite who they seem. When she thinks she has witnessed a murder, Mary wonders at what cost she will stay silent.
Seeking guidance, Mary visits the parish vicar, Francis Davey, and his sister Hannah. But can they help her to navigate this dangerous new world and do the right thing, or will she lose herself in everybody else's criminality? When Mary finds herself in peril for her own life, she is tested to the core and she's forced to find out what she's really made of.