The Imitation Game - BBC Play for Today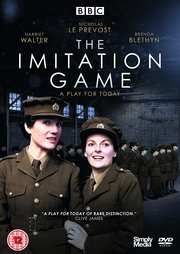 Certificate: 12
Running Time: 75
Retail Price:
Release Date: 01/10/2018
Content Type: TV Series
Synopsis:
When bestselling writer Ian McEwan set out to research Alan Turing's cracking of the Enigma Code during World War II, he was struck by the stories of thousands of women recruited to support the war effort. This poised, impassioned drama, first shown on BBC One in 1980, is the result.

Frinton-on-Sea, 1940. Impatient 19-year-old Cathy Raine (Harriet Walter, in her first major screen role) is expected to see out the war on the production line at the local munitions factory. Against the wishes of her strict father and dull fiancé, in a bid for freedom and self-fulfilment, she signs up for the ATS.

In her soldier's training she befriends working-class Mary (Brenda Blethyn), and finds work at a listening station transcribing coded German transmissions. Moving on to the code-breaking centre at Bletchley Park, Cathy meets Turing-like mathematics don John Turner (Nicholas Le Provost) and is attracted by his endless curiosity.

Circling ever closer to core operations, Cathy is kept in the dark by the secretive male hierarchy until she stumbles upon a secret signals intelligence file that may jeopardise her safety.

If girls fired guns and women generals planned the battles, then the men would find there was no morality... The war would appear to them as savage and as pointless as it really is.
Special Features:


Video Tracks:
1.33 : 1 Colour

Audio Tracks:
Mono English

Directed By:
Richard Eyre

Written By:
Ian McEwan

Starring:
Harriet Walter
Lorna Yabsley
Bernard Gallagher |

Director of Photography:
Peter Bartlett

Editor:
David Martin

Producer:
Richard Eyre

Distributor:
Simply Media