The TARDIS Speaker System Launched By WhoSounds Ltd
A 1:10 Scale model of The TARDIS incorporating a Bluetooth 2.1 speaker system has been launched by WhoSounds Ltd.
Fully scaled and beautifully designed, the speaker is sure to delight all would-be Time Lords, and offers a number of unique features.
A high quality 2.1 sound system is compatible with Bluetooth input as well as audio from any device fitted with a 3.5mm headphone. Whilst two internal full-range speakers housed inside a tuned and sealed chamber with bass provided by a separate drive unit - all powered by an integral 2.1 audio amplifier designed and optimised by an ex-Harmon Kardon sound engineer - for low distortion and high clarity, offers a real treat for audio fans.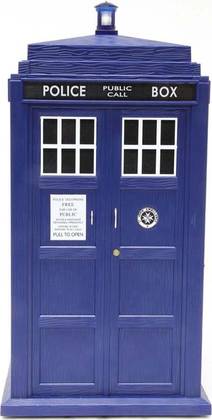 The next and previous track selection, volume and separate bass and treble adjustments can also be made via a neat remote control.
And, for a real time travel experience, the ambient LED light positioned on the roof flashes blue when paired with a Bluetooth device, and the speaker also makes the famous TARDIS landing sound.
This fantastic speaker also features a built-in USB port which is capable of delivering up to 1 Amp, making it more than adequate to power and charge Smartphones and tablets.
WhoSounds Ltd. Director, Karl Grimsey, says: "The TARDIS speaker will delight all Doctor Who fans. Far more than just a toy or souvenir, the function and sonic performance of the TARDIS Speaker will wow audio fans too."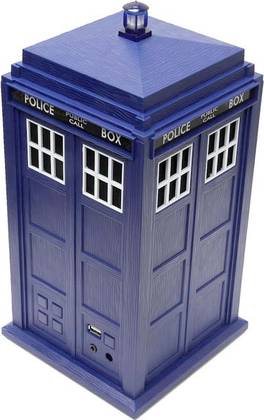 The first units will become available in April and can be pre ordered by visiting
www.whosounds.com
Cost is £150.00 each complete with a BBC store voucher.
The TARDIS speaker is licensed by BBC Worldwide and will be able to order on line via WhoSounds Ltd or purchase directly from the BBC online shop,
www.bbcshop.com
or Forbidden Planet,
www.forbiddenplanet.com